2023 brings a new name for 47 Degrees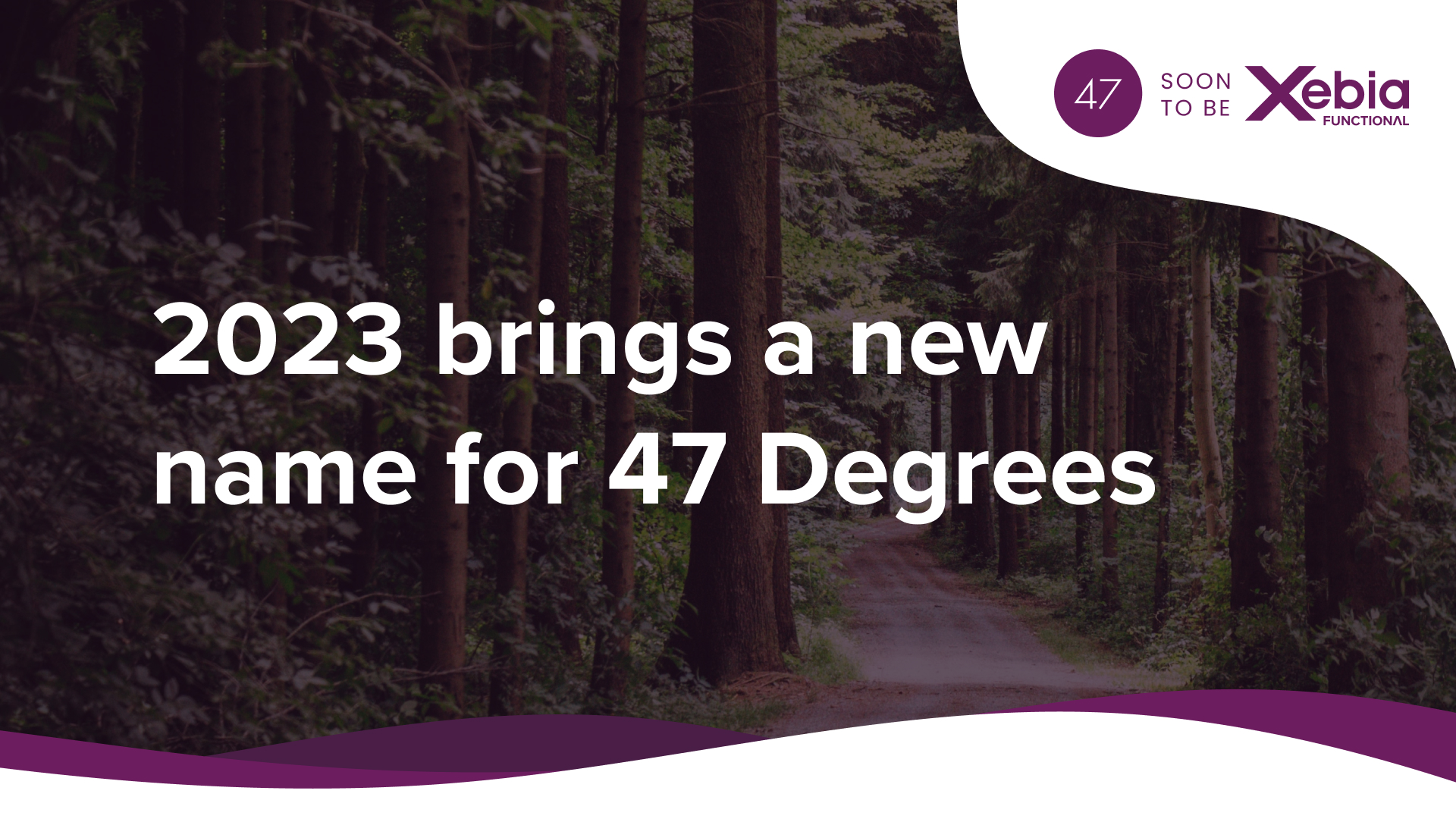 New things are happening at 47 Degrees! You may have noticed that we're looking a lot more purple and a lot less red these days. That's because we're in the process of integrating into our new parent company, Xebia, a leading global IT consultancy, and services provider.
Over the last few months, we've been meeting more of the wider Xebia team and setting the groundwork for collaboration and future projects.
Now, we're happy to inform people that the next step in our journey is transitioning our company name and brand to Xebia Functional.
What does this mean?
At the beginning of the new year, you'll be able to find us living under the Xebia.com domain serving as the Authority branch of technologies and digital transformations within the safer software, formal verification, and functional programming scope.
So, what changes will you start seeing now?
We'll be rolling out updates to our social handles and sales and marketing collateral and adapting our look and feel as we merge with the greater Xebia group. You'll start seeing us appear as Xebia Functional at upcoming events, both online and in-person, and representing our new name within the greater tech community.
As we mentioned in our partnership announcement, we're still the same team offering the same high-caliber services and expertise to our existing and future clients. Under the Xebia brand, we'll be able to offer businesses a one-stop, full-stack shop for digital business transformation.
We'll be keeping everyone updated on our progress as we go. Here's to a very exciting 2023!
Join the Xebia Functional Team:
We've got a variety of open roles focused on Scala, Kotlin, Java, and DevOps: Work at Xebia Functional
More on Xebia
Xebia is an IT Consultancy and Software Development Company that has been creating digital leaders across the globe since 2001. With offices on every continent, we help the top 250 companies worldwide embrace innovation, adopt the latest technologies, and implement the most successful business models. To meet every digital demand, Xebia is organized into multiple service lines. These are teams with in-deptht knowledge and experience in Agile, DevOps, Data & AI, Cloud, Software Development, Security, Quality Assurance, Low Code, and Microsoft Solutions. In addition to high-quality consulting and state-of-the-art software, Xebia Academy offers the training that modern companies need to work better, smarter, and faster. Today, Xebia continues to expand through a buy-and-build strategy. We partner with leading IT companies to gain a greater foothold in the digital space.