47 Degrees announces UK Expansion and seeks Director of Business Development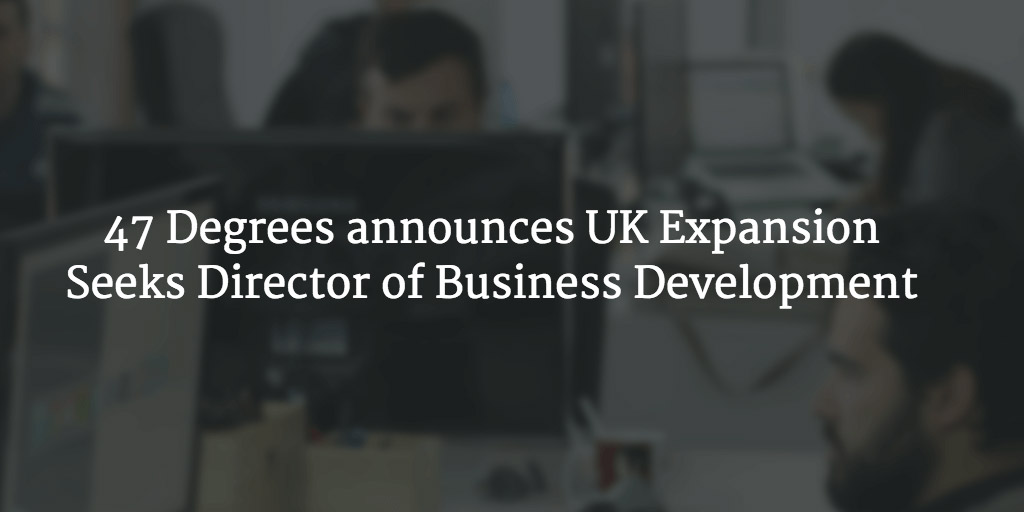 47 Degrees is a global consulting firm and certified Typesafe and Databricks Partner specializing in Scala, Akka, Spark, Play Framework, and Functional Programming training and development. We're pleased to announce our recent expansion and UK subsidiary!
Our new London office will join our established teams in Seattle, USA, and Cádiz, Spain as we strive to become the premier Functional Programming consultancy. Since 2010, we have used our expertise to craft multi-platform digital experiences for our customers. We're a diverse team spread across multiple continents unified by a single desire to create amazing digital products. We pride ourselves on offering premium services and training that are designed to not only meet a client's goals but to exceed their demands. Our stellar list of clientele includes Angie's List, BBVA, Paramount, Leafly, The University of Phoenix, and Telefonica just to name a few.
2016 will be a critical year in defining and molding 47 Degrees presence in the UK market. That's why we're currently seeking an experienced sales professional to head up our business development efforts in London.
This position will play a fundamental role in developing plans and strategies to reach revenue goals for the UK market as well as defining and maintaining client relationships. Last year, we ramped up our event sponsorships and branding efforts across the globe and a vital component will be facilitating 47 Degrees' presence at events in the UK and abroad. We're offering a competitive salary with benefits, paid travel as well as inclusion in the company revenue-based incentive plan.
Of course, a job shouldn't always be all about the money. We're a fast growing, cutting edge company that's serious about the quality of our work, but we're also serious about our company culture. We love to have fun, whether it's barbecuing on the dock in our Seattle offices or watching Flamenco and hitting the beach in Cádiz. We think team bonding is a necessary part of our dynamic, so we make sure to throw in a few snowboarding sessions, pub crawls, group dinners, and plenty of travel throughout the year as well.
The UK division is just launching so this is your opportunity to get creative and help mold its future! Does this sound like it might be the right fit for you?
Update: This position has been filled but you can check out our job listings to see our current opportunities.