47 Degrees joins forces with Xebia, a global I.T. consultancy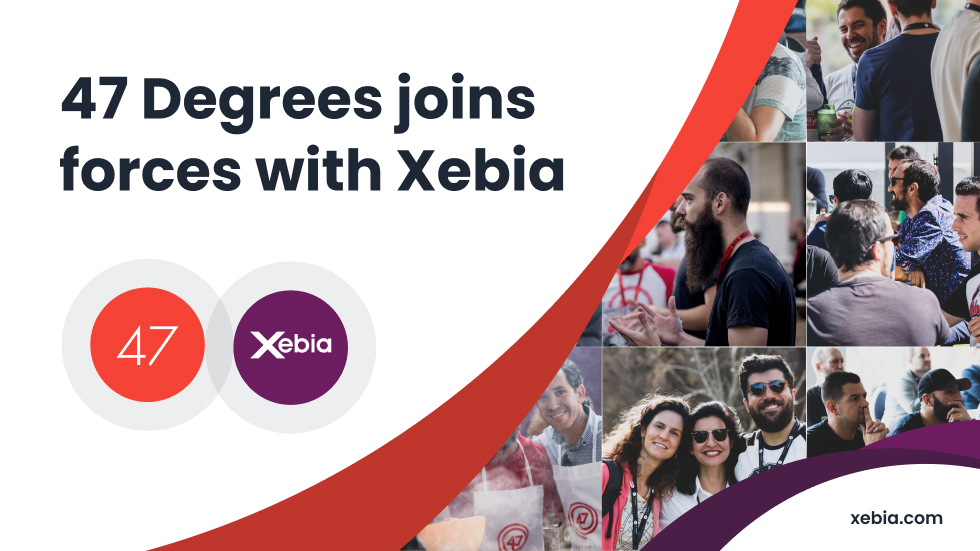 We've got big news. We're delighted to announce that 47 Degrees is now part of Xebia, a global consulting firm based in the Netherlands.
Xebia, founded in 2001, started as a specialist Java consultancy similar to 47 Degrees and is now a world-renowned full-service digital transformation & consulting company with over 4,500 professionals. Xebia's focus now extends across multiple specialties such as Agile, DevOps, Data and A.I., Cloud, Software Technology, Low Code, and Microsoft Solutions. Their mission is to be the Authority in these areas and approached 47 Degrees for our excellence in Scala, Kotlin, and Functional Programming. The expertise of 47 Degrees now forms a new pillar of Authority at Xebia.
Anand Sahay, Global CEO of Xebia Group, said: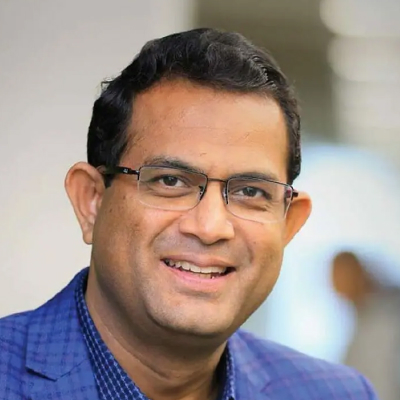 "We are delighted to join forces with 47 Degrees, and we believe that with their strong expertise in Scala, Kotlin as well as functional Java, this acquisition will establish our presence in the global market and also allow us to widen our functional programming expertise to Rust, Clojure, and Haskell. We aim to become one of the most significant one-stop-shop for all functional programming needs."
The history behind the deal
47 Degrees was first launched in 2010 by four friends in a living room with a focus on mobile applications. Over the last decade, we've transitioned our service offerings, grown the team to over 100 employees, and expanded into three continents and four countries. An acquisition or private equity investment was the logical next step in our evolution and growth plan.
We tactfully approached the potential move, with the vital point that we wanted to hit six main guidelines:
Culture match
A sustained future for our team
Market and client alignment
Technology fit
A plan for creating future impact
Unlocking new opportunities for team growth
We were taken aback at how well we aligned with Xebia's core principles, mission, and values. Finding a partner that puts people first, believes in the power of sharing knowledge and mentorships, and has a passion for continuous growth, innovation, and improvement was like hitting a goldmine.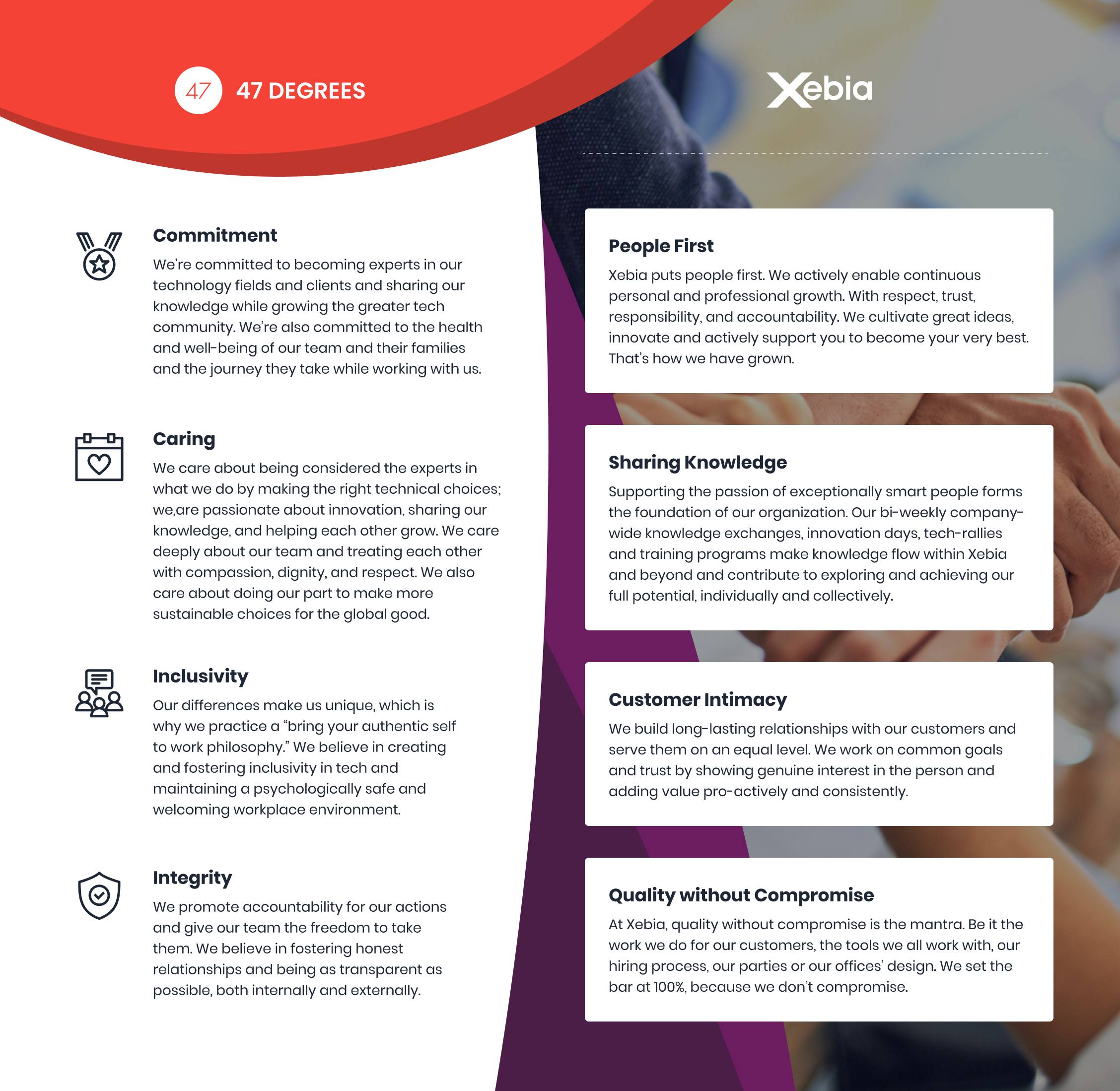 Our CEO, Nick Elsberry said: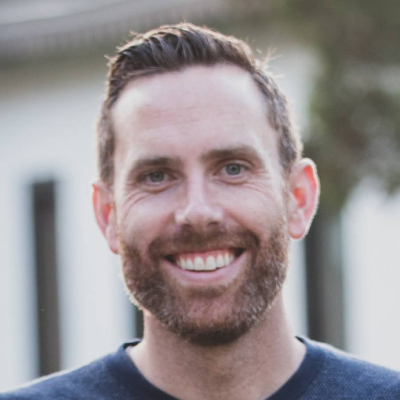 "Xebia are strong supporters of the functional paradigm and we're happy to have a partner to help leverage and support our comprehensive services and expertise to our future and existing clients. Xebia not only aligns with our technology goals but our people-first methodologies, and we're excited about this next chapter."
What does this mean for our current and future clients?
The acquisition of 47 Degrees empowers us to continue providing the same caliber talent and the same high-touch and strategic services and solutions that our clients have come to know and love. Furthermore, it will allow us to scale and broaden our service offerings to current and future clients.
What does this mean for our team?
Job safety and future growth for our team was one of our biggest goals in this search. 47 Degrees would be nothing without each and every individual on our team. We will remain a unit working together like always. We're still the 47ers you've come to know and (hopefully) love, now with a more extensive network of partners. We're proud to have found a place where we can all continue to grow together.
This is a fascinating stage of growth for not only the company but our employees. We have many open opportunities to join our team. If you're looking for your next role, please visit our hiring page to check our available positions.
Community Involvement and the future:
We're sure there will be many questions following this new step in our future, especially regarding our community initiatives, like what will happen to Lambda World? Will 47 Degrees still work on projects like Arrow? And many other inquiries, and we'll be sure to share those answers. In short, don't worry; expect awesome community work by us and our new parent company, Xebia, going forward!
We're proud to be 47ers, and we're now also proud to be Xebians.
More on Xebia
Xebia is a global Full Stack Software Engineering, I.T. Strategy, and Digital consulting company, enabling digital transformation of enterprises using the latest technology and methodologies. They are a 4500+ group of pioneering go-getters and dreamers spread across the globe with 500+ customers. Xebia experts specialize in Data & A.I., Cloud, DevOps, Business Agility, Security, Training & Learning, Software Development, Product Management, and Quality Improvement. They promote digital transformation and bring I.T. solutions to the table. Xebia services include working from the start to the finish line—analyzing in-depth customer requirements, and providing solutions to drive a business. Additionally, they provide cutting-edge tools and training services to bring out the full potential of a business. Xebia has a strong presence in the USA, Canada, Netherlands, Germany, Belgium, Switzerland, Nordics, Poland, UK, Middle East, South Africa, The Kingdom of Saudi Arabia, India, Singapore, Vietnam, and Australia.