Welcome to the 47 Degrees Academy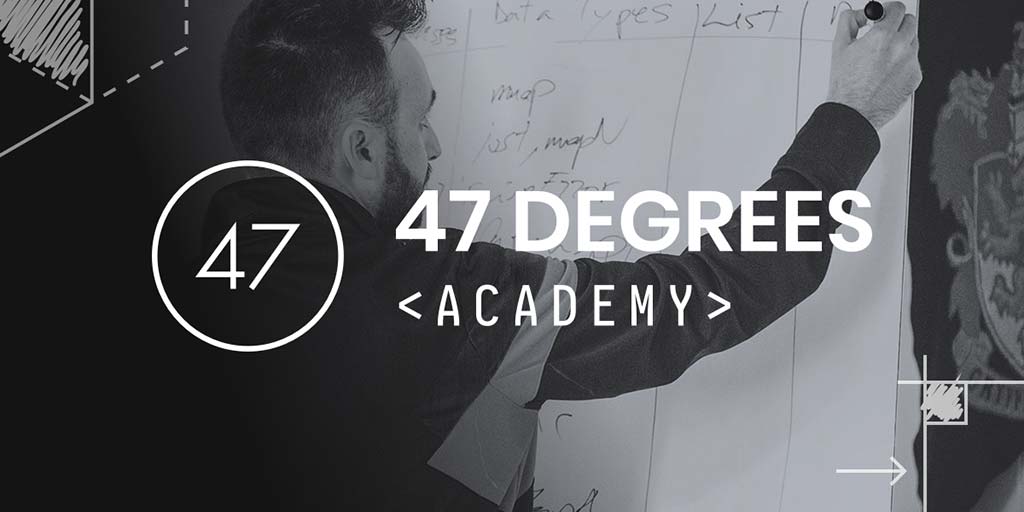 We're happy to announce the re-launch of the 47 Degrees Academy!
The Academy is an immersive experience featuring in-depth instructor-led courses with hands-on exercises, workshops, webinars, talks, and special events. Focused on languages like Haskell, Kotlin, Scala, and Swift, among others, the Academy will take you on a visual journey through concepts, patterns, and applications led by seasoned trainers who are veterans in the Functional Programming industry.
---
What to Expect:
Talks — Our trainers will frequently give free talks on a variety of subjects, themes, and open source libraries.

Mini-Workshops - Our mini-workshops run around 2-hours long and are limited to 15-18 participants. These workshops are designed to give an introduction and mini-dive into topics and give you an idea of what our longer workshops have in store. While these mini-workshops are free, they will fill up fast, so make sure to register in advance.

Webinars & Workshops - Longer talks and workshops will periodically grace our schedule. Some of this programming is free of charge, and some workshops are available as paid events.

Intensive Training Courses - Whether it's an 8-hour, one-day course or a more comprehensive two-day training, our programs are designed to set you up for success. We guarantee small class sizes, detailed exercises, and a personal experience led by our experienced instructors.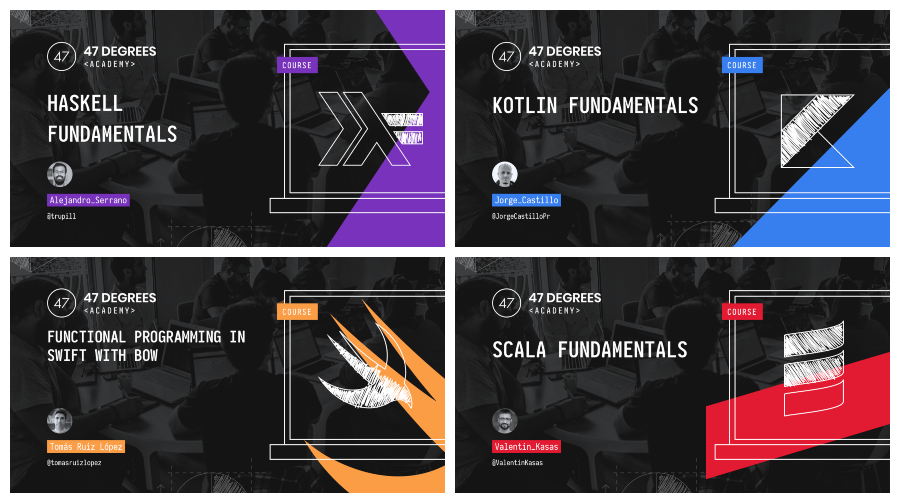 If you're looking for training for your engineering team, you can take a look at our extensive course catalog and book a private session for a group of six or more participants. If you're an individual and see a course of interest in our catalog that is not scheduled for a public session yet, don't hesitate to reach out and show your interest.
Our training courses use a specialized EduTools Platform for attendees to manage all the exercise content easily.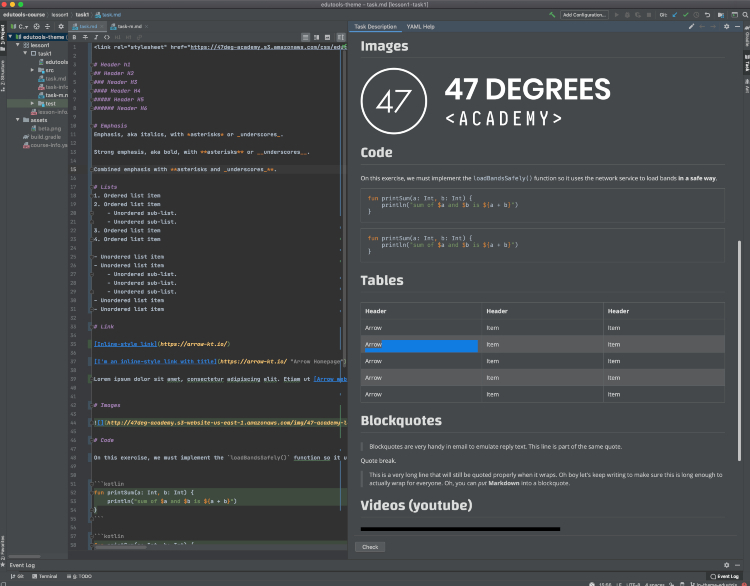 Introductory Offer
We know that the COVID-19 health pandemic is still negatively impacting people around the world. And many students and professionals are still getting used to online education and virtual events. In light of this current situation, 47 Degrees Academy is launching with an introductory discount of 50% off all courses and workshops in the academy.
Academy Origins
The 47 Degrees Academy originally began more than two years ago as a way to provide workshops to students and others through a grant program to enhance our local Functional Programming communities.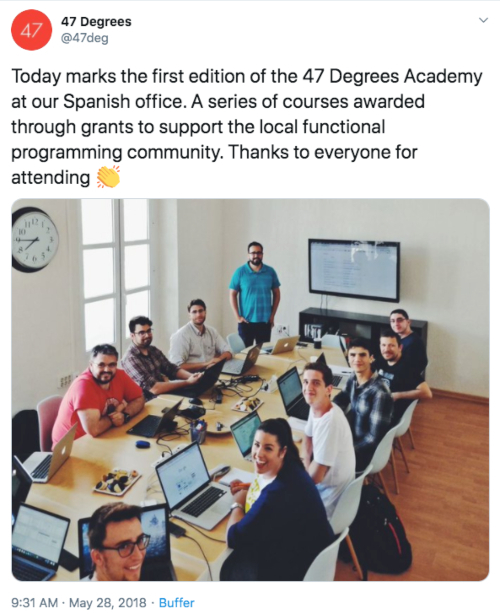 We wanted to find a way to still offer content and educational opportunities to those who may not have the means for more formal tech training, and open our paid training opportunities usually booked through clients exclusively, for the public as well.
As part of our commitment to the community and diversifying the tech landscape, we will continue to offer grants for our paid courses and workshops for underrepresented groups in tech, students, those currently facing unemployment, and those who would not be able to attend because of their financial situation.
Starting in late fall, early winter of 2019, we created an outline for an ambitious training program that involved extensive media production - something that came to a screeching halt due to the global pandemic. So, we had to re-focus, improvise, and work hard to find a solution that would provide the experience we were aiming for, in a completely virtual environment. We're pretty pleased with the results and efforts of our team and are excited to share this with you.
We hope you join us and elevate your educational experience with Functional Programming at the 47 Degrees Academy.
---
Special Thanks
The Academy has been a massive team effort and we want to take a minute to recognize some of the main players behind this effort - which will continue to evolve and grow as we go along.
The tech team / instructors - Raúl Raja, Simon Vegauwen, and Jorge Castillo (Kotlin), Alejandro Serrano (Haskell), Valentin Kasas (Scala), and Tomas Ruiz (Swift). Also, Imran Settuba and Raquel M. Carmena for their work on the eduTools Platform, Miguel Ángel Díaz López for Slack integrations, and Alex Hernandez for helping us integrate actions and slides in OBS.
The creative, marketing, and sales team Benjy Montoya, Jorge Galindo, Maureen Elsberry, Raúl Vasquez, Jason McClellan, Israel Perez, Jetro Cabau, Juanca Arcor, David Berlui, and Amar Patel for work on the Academy structure, visuals, animations, and more.
Last, but not least, our project manager Mar Facio, for keeping us all on track and working cohesively together and Patricia Sibello for coordinating logistics.
Have any questions? Feel free to reach out to us at [email protected]. And join 47 Degrees Academy on Slack.