Functional Programming Updates | February 1st, 2021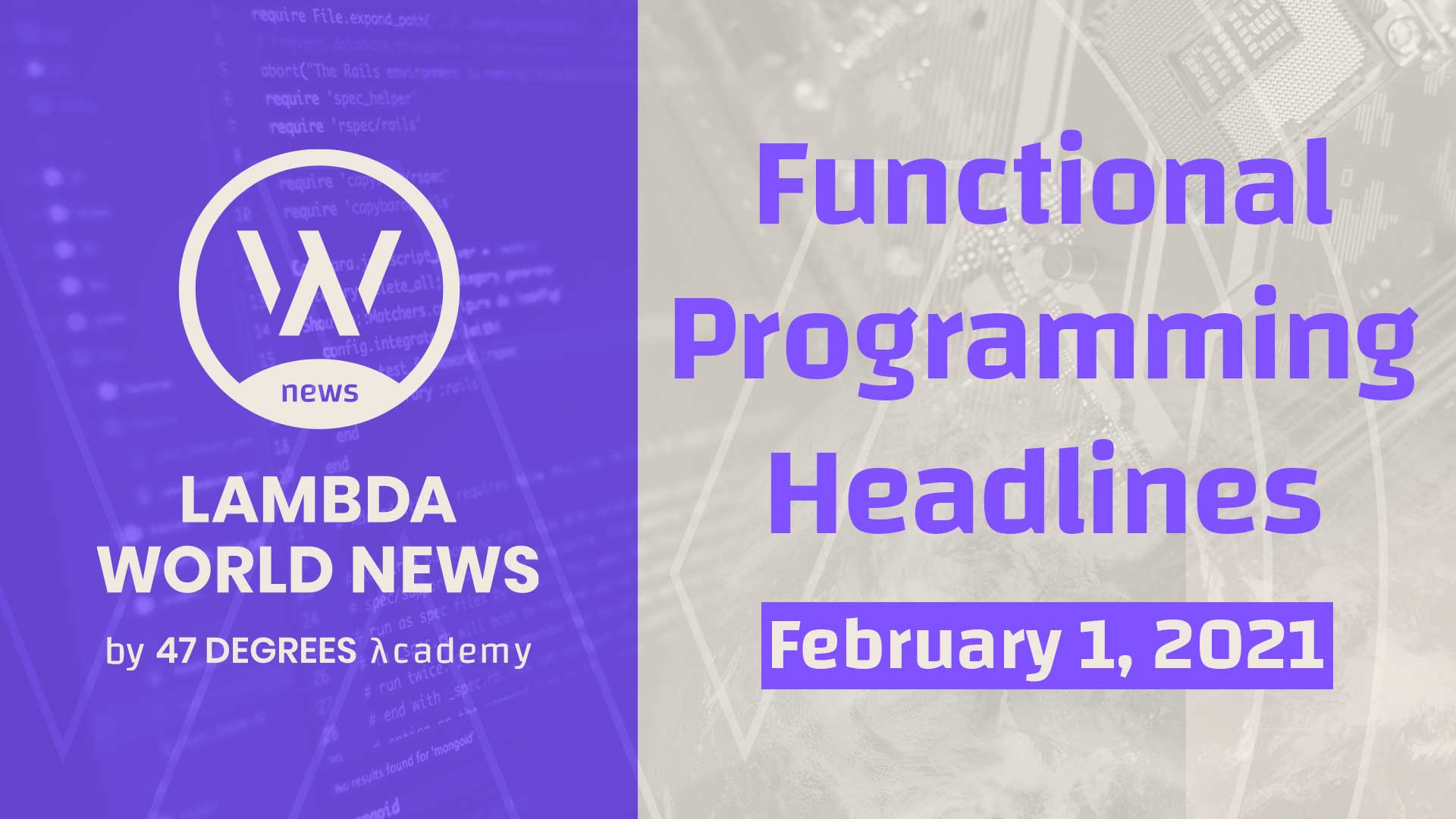 On this episode of Lambda World News, we highlight some of the latest developments in the Functional Programming community.
Here's what's covered on this episode:
NEWS

Kotlin 1.4.30-RC | Kotlin version 1.4.30-RC adds fixes and introduces new features. Read more version details here: Kotlin 1.4.30-RC

Kotlin YouTube channel | JetBrains recently announced the launch of a new Kotlin YouTube channel. Check it out here: Kotlin YouTube channel

ex_check 0.14.0 | There's a new version of ex_check—a single Mix task that runs all analysis and testing tools in Elixir projects. Read more about it here: ex_check 0.14.0

LAMBDA | Microsoft's LAMBDA makes the Excel programming language Turing-complete. Read about LAMBDA here: Microsoft Excel LAMBDA

EduTools Plugin 2021.1 | A new version of the EduTools plugin for JetBrains IDEs based on the IntelliJ Platform is now available. Read about this release here: EduTools Plugin 2021.1
---
SUGGESTED READS

Essential Effects by Adam Rosien

Programming in Scala, Fifth Edition co-written by Martin Odersky
---
UPCOMING EVENTS

Kotlin London meetup
February 3rd, 2021
Kotlin London

Domain Driven Design Europe 2021
February 4th-5th, 2021
dddeurope.com

Scala Love
February 13th, 2021
inthecity.scala.love

Lambda Days 2021
February 16th-19th, 2021
lambdadays.org/lambdadays2021
---
SUBMISSIONS
If you've got a news tip to share, a book to plug, or an upcoming event to promote, send the info to us at [email protected] for consideration.
---
Lambda World News is a web series bringing you the latest news from the Functional Programming community including library releases, suggested reads, upcoming events, and more. Subscribe to the 47 Degrees YouTube channel and turn on notifications so you're alerted when we publish new episodes.
Lambda World News is a 47 Degrees Academy production.