Lambda World News | Functional Programming Headlines for the week of February 8th, 2021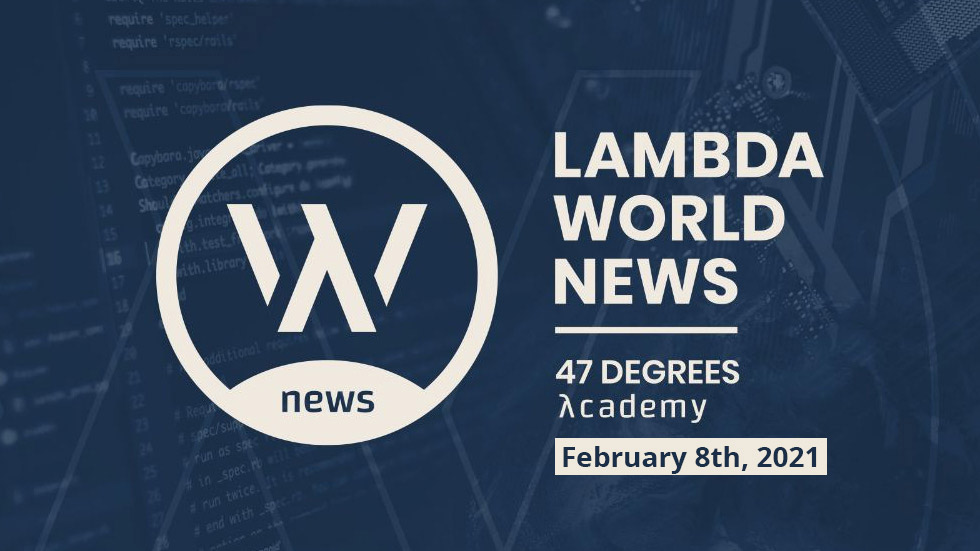 Here's a quick look from Lambda World News at some of the recent items making news in the Functional Programming community.
NEWS

Haskell Foundation Board | The recently formed Haskell Foundation has announced the members of its board. Read the announcement here: Haskell Foundation Board

Kotlin 1.4.30 | Kotlin 1.4.30 adds a new JVM backend, along with various performance and functional improvements. Read about this latest version here: Kotlin 1.4.30

gRPC Swift 1.0.0 | Version 1.0.0 of the gRPC Swift API and code generator was just released. Check out the release notes here: gRPC Swift 1.0.0

Swift 5.4 | The latest version of Swift adds huge compilation improvements, and introduces new features like the ability to have multiple variadic parameters in functions. Read all about this update here: Swift 5.4

Modux 1.2.2 | A new version of Modux was just released, adding major updates. Read all about the changes to this simple and lightweight microservice server for Scala here: Modux 1.2.2
---
SUGGESTED READS

Rust In Action by Tim McNamara
---
UPCOMING EVENTS

Scala Love
February 13th, 2021
inthecity.scala.love

Lambda Days 2021
February 16th-19th, 2021
lambdadays.org/lambdadays2021

IntelliJ IDEA Conf
February 25th-26th, 2021
jetbrains.com/lp/intellijidea-20-anniversary/
---
SUBMISSIONS
If you've got a news tip to share, a book to plug, or an upcoming event to promote, send the info to us at [email protected] for consideration.
---
Lambda World News is a web series bringing you the latest news from the Functional Programming community including library releases, suggested reads, upcoming events, and more. Subscribe to the 47 Degrees YouTube channel and turn on notifications so you're alerted when we publish new episodes.
Lambda World News is a 47 Degrees Academy production.