New versions of GHC, Metals, and more FP news | Lambda World News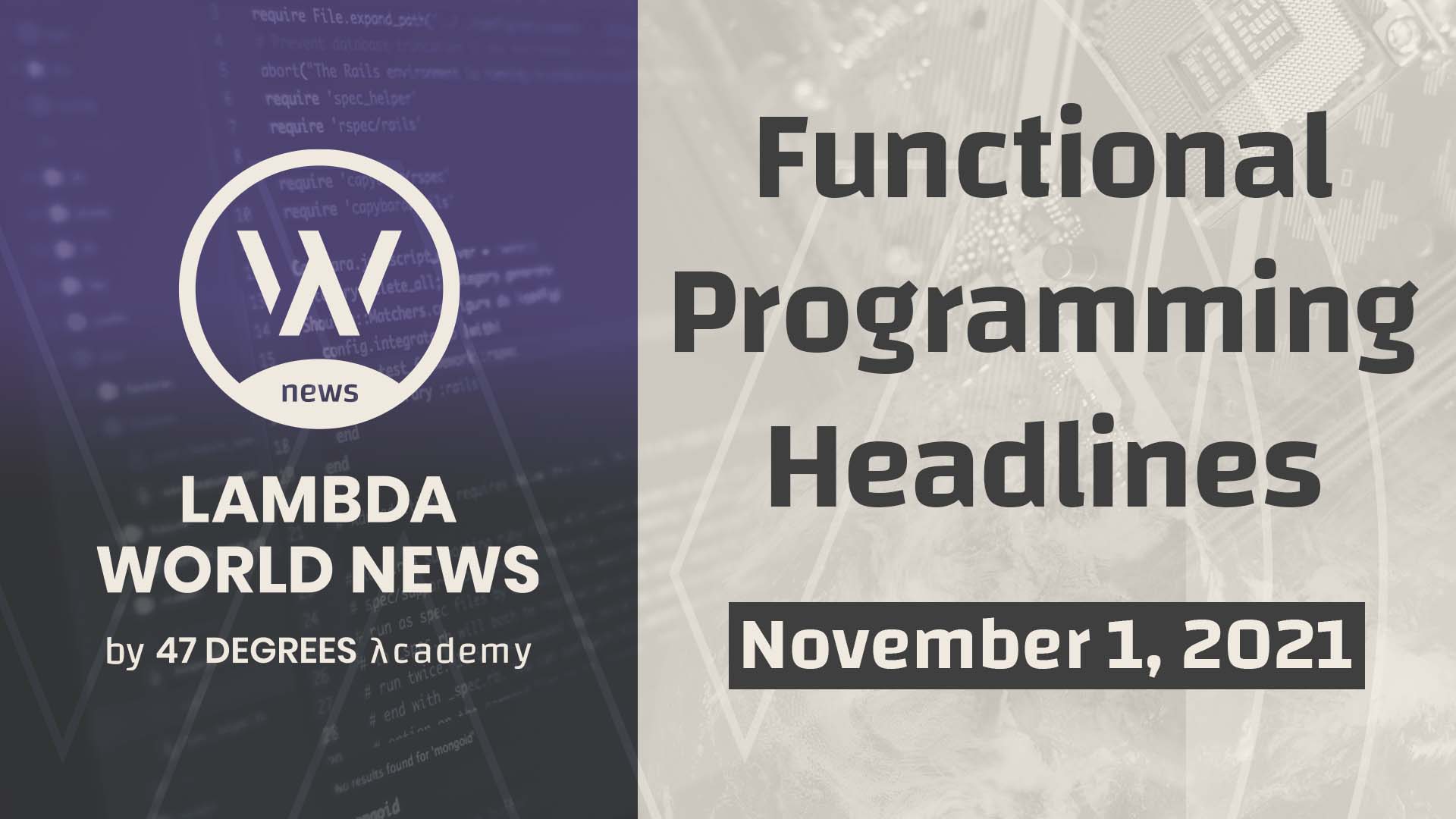 Here's a quick look from Lambda World News at some of the recent items making news in the Functional Programming community.
NEWS

GHC 9.2.1 | The release of GHC 9.2.1 adds lots of new features to this compiler for Haskell including the introduction of the new GHC2021 language extension set. Read more details here: GHC 9.2.1 released

http4k 4.16.2.0 | A new version of http4k is out. The latest release of this functional toolkit for Kotlin HTTP applications upgrades some dependency versions, and features other improvements too. Check out the changelog here: http4k 4.16.2.0

sbt-jacoco 3.4.0 | Version 3.4.0 of sbt-jacoco upgrades underlying JaCoCo to 0.8.7 for JDK 17 support, along with other various upgrades to this sbt plugin for code coverage analysis via JaCoCo. Read the changelog here: sbt-jacoco 3.4.0

Metals v0.10.8 | Metals v0.10.8 adds lots of new features and Scala 3.1.0 support. Read more about the latest version of this Scala language server here: Metals v0.10.8 - Tungsten
Erlang Forums | The Erlang language has a new hub for reading about and discussing all things related to Erlang. Check out the newly launched Erlang Forums here: Erlang Forums

EduTools 2021.10 | The latest release of EduTools, the plugin for JetBrains IDEs based on the IntelliJ Platform, adds new features for the Codeforces and JetBrains Academy integrations, along with other improvements and fixes. Read more about it in this post: EduTools Plugin 2021.10 Is Available
---
SUGGESTED READS

iOS 15 Programming Fundamentals with Swift by Matt Neuburg
---
UPCOMING EVENTS

ScalaCon
November 2nd-5th, 2021
scalacon.org

Haskell eXchange 2021
November 15th-17th, 2021
skillsmatter.com/haskellx2021
---
SUBMISSIONS
If you've got a news tip to share, a book to plug, or an upcoming event to promote, send the info to us at [email protected] for consideration.
---
Lambda World News is a web series bringing you the latest news from the Functional Programming community including library releases, suggested reads, upcoming events, and more. Subscribe to the 47 Degrees YouTube channel and turn on notifications so you're alerted when we publish new episodes.
Lambda World News is a 47 Degrees Academy production.