LX Scala 2017 is invading Lisbon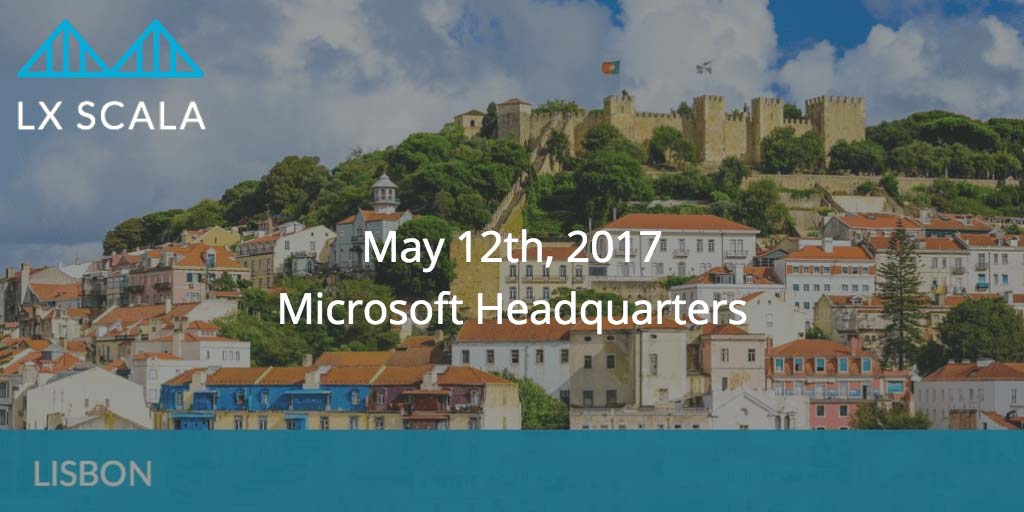 For the second year in a row, we're thrilled to be hosting LX Scala in Lisbon, Portugal!
On May 12th, in partnership with our friends at e.near and Codacy, we will be bringing Scala professionals from around the globe to the Microsoft Headquarters for an awesome event.
With one-track, eleven speakers, and nine presentations, there will be plenty of Scala knowledge to absorb. But, we don't expect you to only sit in talks, this conference gives you the opportunity to network with speakers and attendees, toast to accomplishments (seriously, we've got special beer for you (and of course, non-alcoholic drinks are available as well), and party away from screens.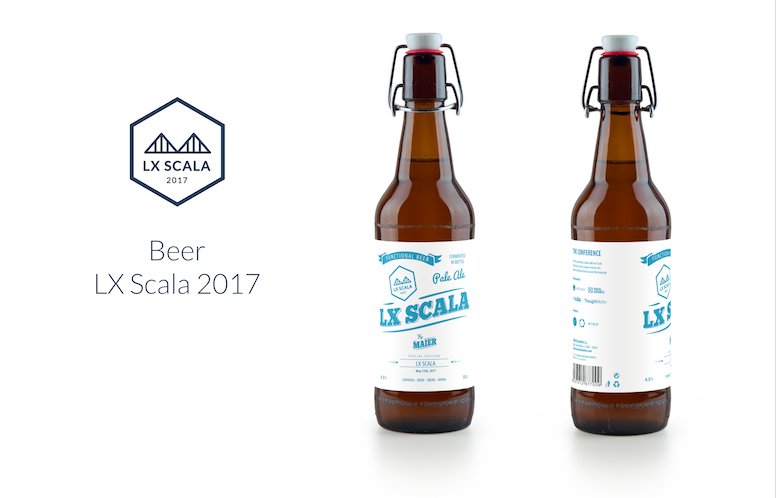 There are two events proceeding the conference so you can whet your appetite before the main event:
PTJUG & GDGLX Session on May 9th will be held at the Instituto Superior Técnico and feature two speakers: Miguel Duarte from Equal Experts will present Modern Java with Javaslang and Lombok and our CTO, Raúl Raja, will cover Functional Error Handling. You can find out more and RSVP here.
Then on Thursday, May 11th, the Scala User Group of Portugal will be hosting a meetup with two presentations, pizza, and beer! Jorge Agudo from ThoughtWorks will be presenting (DYS)Functional Programming with Scala and Nuno Marques from Equal Experts will present Discovering FP Design Patterns in Scala.
But don't get too crazy, you need to rest up for the main event on Friday!
Our Speakers:
-Heather Miller - Scala Center at EPFL
Heather needs no introduction, but in case you've been living under a rock, Heather is a founder and the Executive Director of the Scala Center. She'll be kicking things off with the opening keynote talking about all things Scala and some new projects in the works.
Opening Keynote
Time: 9:00 - 10:00
---
-Kelley Robinson - Sharethrough
Kelley is a Scala developer working with data and infrastructure at Sharethrough in San Francisco. She is also the founder of Scala Bridge, a group building an inclusive Scala community through introductory programming workshops for women. She'll be discussing the price of implementing Free Monads in your code and discussing alternatives.
Why the free Monad isn't free
10:00 - 10:45
---
-Raúl Raja - 47 Degrees
Raul is a founder and CTO of 47 Degrees and an all-around functional programming enthusiast. He'll be discussing one of the latest open source libraries produced by the 47 team, Freestyle which is a library that enables building large-scale modular Scala applications and libraries on top of Free Monads/applicatives. He'll also discuss some of its design choices and main features.
Freestyle - A framework for purely functional FP Apps & Libs
10:45 - 11:30
---
-Łukasz Indykiewicz - ScalaC
Łukasz is a Scala Developer at Scalac and the co-organizer of Chamberconf. He'll be introducing the audience to a flexible and powerful concept which will extend the functionality of your code without tight-binding. He will also discuss the basic information and suggestions for implementation tactics for Type Classes in Scala and how they are used in open source.
Type Classes in Scala
12:00 - 12:45
---
-Holden Karau - IBM Spark Technology
Holden is a software engineer at IBM's Spark Technology Center and co-author of numerous books on Spark. She is also a Spark committer and makes frequent contributions to Spark, specializing in PySpark and Machine Learning. She'll be discussing how Spark's ML's internals work and how to understand how the ML pipeline API works so you can implement your own models.
Extending Spark ML for Custom Models
12:45 - 13:30
---
-Sofia Cole - ITV
Sofia is a software developer at ITV and works on building microservices in Scala. She views Scala as an exciting challenge and continues to learn and develop her skills on a daily basis.
Kingsley Davies - Underscore
Kingsley is a partner at Underscore Consulting and has spent over a decade designing, developing and supporting large-scale systems.
Together, Sofia and Kingsley will be discussing microservices and what frameworks are out there to make delivery teams more productive. They'll also how do stacks, stack up and the important factors for comparison.
Scala Services in Action
15:00 - 15:45
---
-Ruben Badaro - Morgan Stanley
Ruben is a software engineer and manager working at Morgan Stanely in London building the firm's new risk system entirely in Scala. He'll be discussing how Morgan Stanley began to solve issues with scalability and how they extended the Scala compiler, async, tooling, and how more than 300 developers came together to write 2 million+ lines of code.
Building to Scale: How We Ended up Building One of the World's Largest Calculation Systems
15:45 - 16:30
---
-Luis Reis - e.near
Luis is a Scala Developer with e.near who specializes in Distributed Systems and Data Engineering. He enjoys building software that coordinates distributed systems into achieving a single purpose - providing insight into critical business decisions.
Rui Batista
Rui is a Scala developer from Lisbon who enjoys leveraging Scala's rich type system and expressiveness to produce better code. He is a constant advocate for generic and functional solutions based on libraries like Shapeless and Cats.
Together, Luis and Rui will be discussing Kafka and how it can interact with fully functional applications. They will also discuss and compare the two most used stream-based frameworks, Akka-Streams and FS2.
Functional Streams with Kafka: A comparison between Akka-streams and FS2
17:00 - 17:45
---
-Viktor Klang - Lightbend
Viktor Klang is the Deputy CTO at Lightbend where he has been working in a variety of roles since 2010. He was one of the earliest committers to Akka and acts as Tech Lead on the project. He's got a taste for concurrency paradigms and performance optimization. He'll be closing out the presentations with a killer keynote that will leave a nice Scala aftertaste on your palate.
Closing Keynote
17:45 - 18:45
You can view the full schedule here: LX Scala Schedule
The Closing Party
After a full day of ingesting all things Scala, head over to the closing party to ingest some delicious food and drinks and enjoy music and lively conversation. We've chosen Time Out Market Lisboa because of it's rich offerings of traditional Portuguese food and drinks. It's also listed as one of the top things to do in Lisbon!
You have time to grab dinner before the party, and we recommend doing so at the Market which includes satellite stalls from some of the country's top chefs. Then, after you've had your fill of exploring, head up to our private party overlooking the bustling market where we'll have drinks, music, and general revelry.
The nitty gritty

Big thanks to Microsoft and the Scala User Groups of Portugal, Madrid, Málaga, and Bcn for their support of this event. We'd also like to thank our Gold Sponsors Lightbend, Equal Experts, ThoughtWorks, and scalac, as well as our supporting partners Microsoft and Scala Swarm, and our media partners BETAi and StartUp Lisboa. You all rock and this event couldn't happen without you! If you're an attendee, make sure to stop by the sponsor's booths to chat with them.
Just realizing you haven't picked up your ticket yet? Attendee registration is nearly sold-out, but we were able to add a few extra tickets thanks to our hosts at Microsoft! You can still get tickets here, but hurry!
We've also partnered with the folks over at Cabify to give attendees 8€ off your first trip within the city. Stay tuned for more information.
Make sure to track down our team members that will be in attendance to chat or cheers a beer during the day. You'll be able to find Grandmaster Jorge Galindo, Raúl Raja, Benjy "Paparazzi" Montoya, Ana Márquez, Noel Markham, Domingo Valera, and Antonio Mateo. You can tell them I sent you.
Feel free to ask questions, communicate with attendees, and more at the LX Scala Gitter Channel. Don't forget to connect with us @LX_Scala before, during, and after the event using #LXScala on Twitter and Instagram! We look forward to seeing you in Lisbon!
Making a vacation of it?
Lisbon is one of the top destinations in the world and is known for its beauty, delectable eats, and diverse culture. If you're looking for places to eat, things to do, sights to see, here are a few recommendations from Jorge Galindo:
Miradouros
As if Lisbon's picturesque streets weren't seductive enough, they often lead to the top of hills that force contemplation through terraces serving as viewpoints. It is here that you'll conclude that Lisbon is indeed one of the world's most beatiful cities. Check out:
Put away your map and wander aimlessly through the "becos" (alleys) and "largos" (small squares), allowing your senses to be your guide. You'll see laundry out to dry from balconies and magnificent views of the river, smell fish being grilled in a corner, and hear the sounds of Fado coming out of a restaurant. Visit S. Geourge's Castle, located on the city's tallest hill, offering a breathtaking view over Lisbon. It was first built in the 6th century and was occupied by the Romans and Visigoths before it became a Moorish royal residence.
Bairro Alto
At the end of the day, Lisbon comes out to party on the streets of Bairro Alto. It starts with late night dining and bar-hopping and leads to an impromptu street party of locals and tourists of all different backgrounds conversing and drinking into the wee hours of the morning.
Chiado
Lisbon's most elegant and trendy neighborhood is where everyone meets for coffee, shopping, or before dinner and a night out in neighboring Bairro Alto. Try:
Other Interesting Places:
Belem: It is known as the historical district of the Age of Discovery. It was from this riverfront that Vasco da Gama and other explores departed for their voyages; events celebrated today by grand monuments and museums in the neighborhood.
Vintage Rides: The antique trams that cross Lisbon's narrow streets are truly a trip back in time, but vintage rides are the iconic funiculars that climb the steep hill, offering a charming "only in Lisbon" experience. You must go on Tram 28.
Portuguese food:
Some our favorites places to indulge in good Portuguese food:
We hope you enjoy Lisbon and after you get your fill, if you want to explore more unique cities in Portugal, consider attending our sister conference, ScalaSwarm, in Porto in June!