Sbt Microsites Plugin version 0.2.5 released

Sbt-microsites, a project from 47 Degrees, is a useful tool for creating dedicated microsites for libraries and other projects. The plugin, written entirely in Scala and based on the Bootstrap Framework, simplifies site generation and integrates with a project's Github repository.
Some of the benefits of these autogenerated web pages include:
The ability to quickly write documentation directly in Markdown format.
Included templates, layouts, styles, and other resources are available through the plugin at compile time.
Eliminates the need to deal with styling.
While the plugin provides basic styles and images by default, we've made it easy to customize the color palette, styles, and images based on your personal preferences.
For improving the user experience and easing the learning curve of using new libraries, we've made importing documentation into a concise, and clean format a possibility. Automatic importing of the user guide will split the documentation up into sections providing clean navigation in a side menu bar as seen below: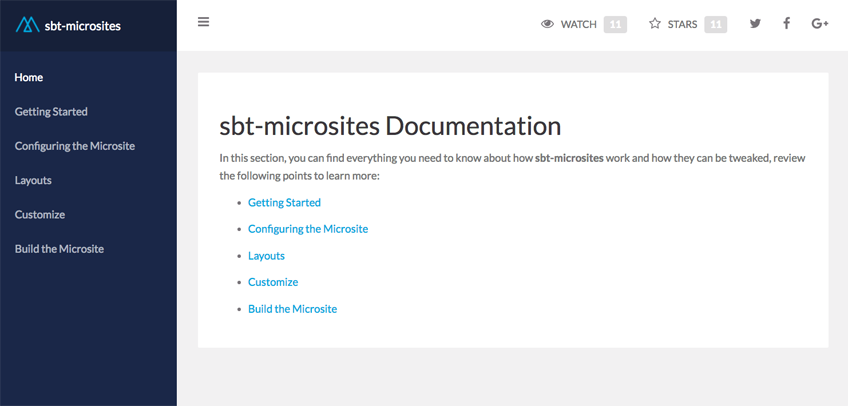 It only takes a few basic steps to automatically create and publish microsites to GitHub Pages thanks to the integration of a selection of other sbt-plugins and libraries. Full credits can be found on the sbt-microsites homepage.
We recently used this plugin to create the Typelevel.Scala microsite and soon to be revamped Cats library site (stay tuned). In addition, you can view other microsites like Fetch and ScalaCheck-datetime to see further examples.
An additional thanks to 47 Degrees team members Juan Pedro Moreno, Rafa Paradela, and Israel Perez for their behind-the-scenes work on this project!
Make sure to tweet us @47deg and let us know when you've created a microsite for your project using this plugin, and as always, this is an open source effort, and contributions are welcome.