Scala Days 2015 Official Mobile Apps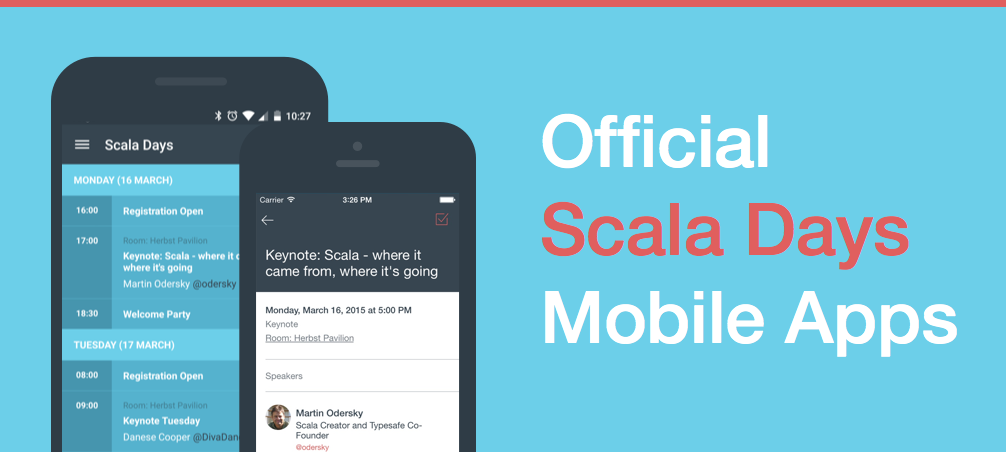 Scala Days is the premier conference for programmers, enthusiasts, and anyone else interested in the Scala programming language. We're happy to announce that we are once again sponsoring both the U.S. event in San Francisco as well as the one in Amsterdam, which are both hosted by Typesafe.
We're also very excited to let you all know that we have created the official iOS and Android apps for this year's conference. The apps act as companions for the conference to help you to decide which sessions to attend, to find training opportunities, to stay updated on social media at the conference, and to know your way around both of the events' venues. You can find those apps on the iOS App Store and the Google Play store.
If you're on Android, you'll definitely want to download the app because it was built from the bottom up with Scala using the Macroid library. We walk the walk in order to demonstrate just how powerful Scala is and to show you first-hand what it can do when put to the test on Android.
Our Scala Days companion app acts as an example of a production app written in Scala on Android. Additionally, in the spirit of collaboration, we're open sourcing all of the code. With it, you'll be able to see exactly what makes the app work and get your hands dirty building your own apps with Scala. You can find the Github repository for Android here and iOS here.
Make sure to get in touch with us if you have any questions or comments on the apps for the conference events or about using Scala in general. You can also find us at Scala Days in San Francisco from March 16th to 18th and in Amsterdam from June 8th to 10th. As always, you can also find us on Twitter, Facebook, and Google+.