Join us at Scala Days Chicago
We're just a few weeks away from the first Scala Days of 2017 in Chicago! Once again, 47 Degrees is a Gold Sponsor and you'll be able to catch up with some of our team in the Windy City!
The Scala Days conferences are designed and presented by leaders in the Scala community and a place for devs, architects, leads, and Project Managers to come together to learn, share, network, and discuss new ideas creating applications using Scala, and related technologies like Akka.
Chicago's event takes place April 19th - 21st at the Swissotel Chicago and boasts training workshops, three days of speakers on three tracks, welcome reception, and community party.
At the event:
We shouldn't be hard to miss - we'll be situated close to the entrance of the conference center diagonal from the registration booth, just look for red! If you want to score one of our community famous t-shirts, we recommend visiting us early. We'll be giving these out while supplies last. So stop by to talk with us about Scala, open source, and related technologies and leave rocking some new duds.
Andy Scott presenting Case Classy
Our own Andy Scott will be unveiling a new open source library from our team called Case Classy on Friday at 3:40 PM on the Advanced track in Zurich FG.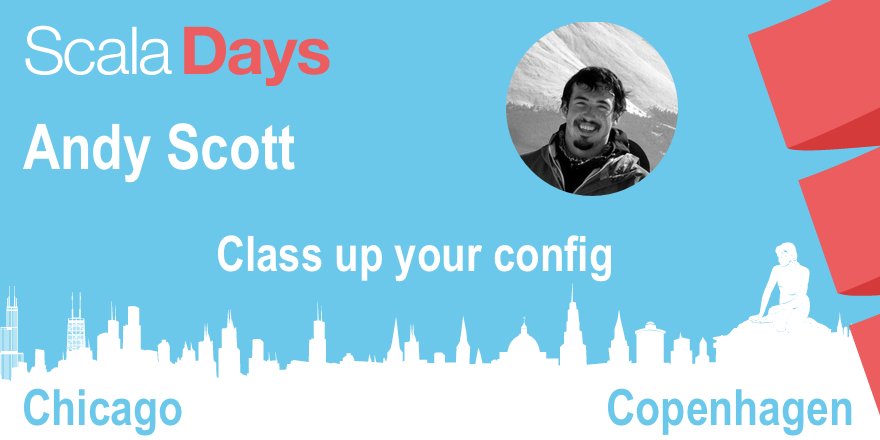 You can find more infomation on his talk here: Class up your Config with Andy Scott
Haven't bought tickets yet?
Still haven't bought your ticket yet? Save 20% by using the discount code: 47degreescustomer or buy visiting here:
Discount Scala Days Chicago Tickets
Note: Discount is applied to conference only, not workshop days.
Official Scala Days Mobile App
For the fourth-year in a row, we've been responsible for creating the official Scala Days app. We're currently polishing things up now and will keep you updated when the latest release is available for download.
See you April 19th!
We hope to see many familiar, as well as new faces there! If you want to schedule a time to talk about specific projects or other related topics, get in touch with us in advance or visit our booth during the event.
You can also stay up-to-date by following @47deg and join in on the conversation with #ScalaDays