Stride Makes Sales a Snap
by Aaron Regan

•

October 23, 2012

•

|

1 minute to read.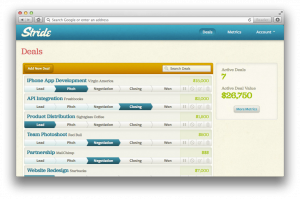 Working at a startup isn't always easy. There are tons of day-to-day tasks that absolutely have to get done and crucial information that requires tracking, and there are precious few people to do those things. The right software can help with ongoing tasks, but the abundance of apps and utilities available just compounds the problem. One of the areas where this problem becomes most apparent and most important to resolve is in sales.
So how did we solve this conundrum? Thankfully, we were lucky enough to find Stride. "Being a startup with a small crew, I just needed something to be able to communicate to our co-founders and developers where we were at with some ongoing negotiations, or client contacts," says Aaron Regan, our Director of Business Development. Stride, he says, fulfills this need.
"All sales tracking and CRM applications are complex, clunky, and made for full-time salespeople," Stride founder Andrew Dumont told Geekwire earlier this year. So Dumont set out to build something better and Stride was the result. It's a super simple, colorful, web-based sales app that allows sales professionals to track the progress on deals and make sense of them them using beautifully presented analytics data.
And, so far, it's made work a lot easier for Aaron. He says, "Stride seemed like the perfect way to note what was important, be able to communicate that to our team without sending update emails, and have a way to track how much we have out there in the way of dollar amount of open proposals without having to deal with a ton of cumbersome features that do nothing but bog you down."
Our team recently met with Dumont and we're very excited to see Stride grow and succeed as his team develops more features and refines the app.
If you have any questions about how we use Stride, or about our workflow in general, don't hesitate to ask us in the comments below or on our Twitter and Facebook. You can also visit Stride's website directly at Strideapp.com.