[Utilities] Keith's Daily Favorites
•

July 20, 2012

•

|

2 minutes to read.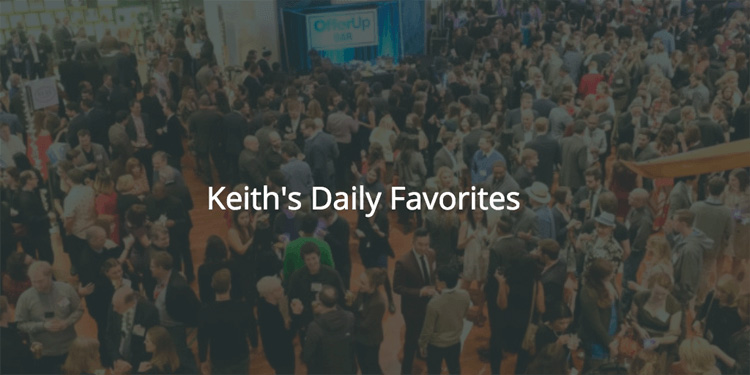 In keeping with Derek's precedent of sharing some of his favorite apps and utilities, our new Social Media Manager took some time to write down a few of the various tools that make his digital life a little easier or more fun.
Work
Dropbox - I have to agree with Derek on this one: its ability to sync and ease of use make this one invaluable for getting work done quickly.
Sparrow - After this was released for iOS, I ditched the standard Mail app entirely. Sparrow blows it out of the water, and syncs really cleanly with the OS X app.
iA Writer - Removing distraction is essential to getting in the zone, and that's iA Writer's strongest suit. The big typeface, full-screen capability, and the one-sentence-at-a-time focus mode make this app a must-have for written productivity. (Available for Mac OSX as well).
750 Words - While not necessarily an "app" in the traditional sense, I'm quickly discovering just how useful this is as a website. Though the idea of "morning pages" isn't new, this site makes it quick, easy, and fun to do. It definitely sets the pace for my day and it's becoming as valuable as a good breakfast.
Entertainment
Spotify - Although the $9.99 per month fee seems a little steep at times given some of the kinks that still need ironing out, I still come back to Spotify each day on my commute. It's easier and more space-saving than having thousands of songs on your phone or computer.
Bandcamper - A great little app for streaming music from Bandcamp, an online hub for indie bands. I use it only occasionally for albums I have trouble finding on Spotify, but in those instances it's essential.
Flipboard - A gorgeous and eminently useful way of reading the news and keeping up with blogs. I open this like clockwork whenever I get on the bus. It's like opening the newspaper each morning, but with more personalization and a better user interface.
Essentials
OneBusAway - Admittedly, this one is Seattle-specific, but I would be totally lost without it, in some ways quite literally. Sometimes I can't believe this app is free. The bus arrival times are occasionally a bit off, but never so much that I could do without this app.
Uber - When the bus is late, or simply not an option, Uber is the next best thing. They're very fast (I've always been picked up less than 15 minutes after requesting a pick-up), the drivers are courteous, and the app works exactly as it should.
Clear - I've looked high and low for a to-do app that I really like. I'm someone that needs to feel organized and keep my thoughts in order. Clear offers a simple, elegant solution.
Chrome - Much like with Sparrow, once Chrome came out I switched away from mobile Safari. I'm a little more skeptical about Chrome on OS X, but on iOS it's clean, fast, and very usable.