Maureen Elsberry brings marketing chops to the 47 Degrees team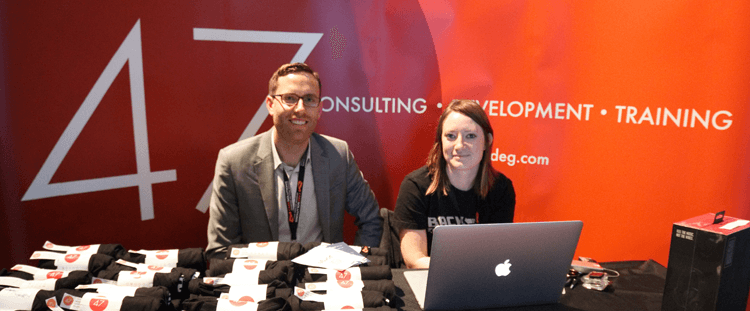 47 Degrees is bringing new focus to their marketing team in 2016 with a vision to expand our digital footprint. Maureen Elsberry started working for 47 Degrees as a contractor in the summer of 2015 and this year we're happy to add her as a full-time member of our continually growing team!
She comes to us with a background in writing and media and holds a degree in Journalism and Mass Communication with a focus in Media Production from Arizona State University. While still in school, she started working full-time for an online marketing company focusing on search optimization and inbound campaigns for a variety of technology and eCommerce clients, while simultaneously completing an internship at Radio Disney for sound production. Her expanding focus in strategic marketing has led to a decade-long career working with a variety of technology start-ups in both B2B and B2C markets.
Her last role was a bit off the scale when it comes to nerdy. For the past six years, she served as the Marketing & Sales Director, Event Planner, Media Host and Journalist for a multi-media company, print magazine, and conference centered around UFOs. Yes, the alien kind. Maureen also starred in a television show for Discovery entitled Uncovering Aliens, where she traveled around the United States investigating cases of alleged alien interaction (she's more of a Scully than a Mulder). In conjunction with this, she served as an ambassador for the Science Channel's Are We Alone? week leveraging audiences through targeted campaigns, radio tours, and promotional activities with the Discovery marketing team.
When she isn't crafting content or glued to the screen, Maureen enjoys a variety of outdoor activities including camping, hiking, and kayaking. She also keeps up her love of geek culture and the paranormal by running a geek news site RoguePlanet.tv, hosting podcasts, and creating videos. You may catch her at various Comic Cons or speaking on the occasional panel. She fancies herself a connoisseur of wine, cheese, and cigars and recently transplanted back to the Seattle area after a 13-year stint in Phoenix, Arizona.
With her depth of experience and determination to show results, we know Maureen will be a valuable asset to the team. We're happy to have her join us, and we look forward to the continued growth of 47 Degrees!
To learn more about 47 Degrees, and how our diverse and highly experienced team can transform your company's digital framework and workflow, contact us today!