47 Degrees welcomes new team members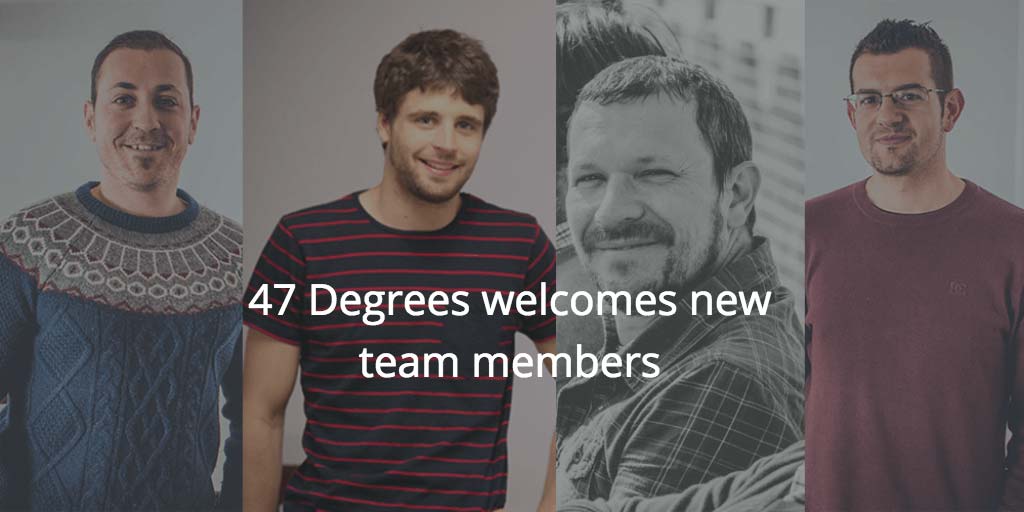 Last year was a period of growth for the 47 Degrees' family. We brought on a handful of new members, welcomed a couple of future programmers to the world, and opened a new office in London. We're pleased to say, 2017 is shaping up to be pretty similar. This Month, we welcome three new (and one semi-new) awesome individuals to our team!
Welcome (back) Peter Neyens
As some of you know, we were lucky to have an extremely bright and hardworking intern this fall. Peter Neyens spent three months with us at our Spain office working on a variety of our open source projects, including Scala Exercises.
We were so impressed with Peter's skills and work ethic that we knew we needed to hold onto him. We're happy to announce he accepted our full-time offer and is now working out of our London office.
For more on Peter and why he's an awesome addition to our team, check out his intern welcome
Find him here:
---
Welcome Ernesto Periñan
Ernesto graduated as a Technical Engineer in Computer Systems and obtained the honor qualification for his final degree project from the Universidad de Cádiz in 2011.
After graduating, he spent four years as a full-stack developer before moving into backend, Dev-Ops, and finally becoming a front-end developer specializing primarily in Python, PHP, AngularJS, ReactJS, Javascript, HTML/SASS/CSS, AWS (Amazon Web Services), Bash, etc.
He loves all aspects of software development, but after he attended a training class we hosted in Cadiz, Fast Track to Scala, he fell in love with functional programming. (We LOVE to hear that). He now spends his time working on Scala, Akka, Kafka, and related technologies.
When he's not programming, Ernesto enjoys traveling around Spain and exploring other countries. He's one of those active guys that plays every sport under the sun including football, Padel (I had to Google this one), and table tennis and enjoys running, cycling, and training at the gym. Despite his healthy lifestyle, he also enjoys indulging in life's simple pleasures like good-tasting (bad for you) food and beer.
Find him here:
---
Welcome Antonio "Paolo" Mateo
Antonio, better known as Paolo, studied as a C.F.G.S Senior computer application technician at San Jose School in 2003 in San Fernando. He went on to work at the SDS company in Puerto de Santa María from 2008 to 2013. During that time, he participated in several projects for different organizations such as the Junta de Andalucía, Endesa, and Diputación de Cádiz.
He utilizes a variety of programming languages including Java, PL / SQL, Abap IV, and of course Scala. While many people might say that programming is stressful, Paolo finds it relaxes him and allows him to disconnect a little. He's in his element when he's able to solve problems and help out his colleagues.
When he's not programming, Paolo enjoys spending time with his two children and playing music. He's the singer and guitarist of an awesome rock band called Champagne, check them out, you won't be sorry! We're hoping we can add him to our 47'er supergroup (album dropping soon).
Find him here:
---
Welcome Juan Valencia Calvellido
Juan comes to us with a B.Sc. in Computer Engineering from the Universidad de Cádiz. During his days at University, he studied for a year in Germany. Before joining the 47 team, his trajectory included a mix of private and public infrastructures including Cern, the European Organization for Nuclear Research.
His passion for development is focused on human-machine interactions and trying to find the best ways to build and improve the relationship through JavaScript. He's also a committed Open Source software advocate (so he'll fit in quite nicely here).
As part of his open course contributions, he's happy to have submitted code to Fedora and EPEL (Extra Packages for Enterprise Linux) repositories, a volunteer-based community effort to create a repository of add-on packages that complement the Fedora-based Red Hat Enterprise Linux (RHEL) and its compatible spinoffs, such as CentOS and Scientific Linux.
Juan believes frontend development is more exciting than ever with the ultimate web development goal heading towards a modular, standardized, interoperable ecosystem of encapsulated components.
In his free time, when he's not recovering from Js fatigue, you will most likely find Juan reading sci-fi books, listening to punk rock, or more likely at the moment, glued to his Nintendo Switch playing Zelda: Breath of the Wild.
Find him here:
---
We hope you'll join us in welcoming these new 47'ers! Remember you can always connect with us @47deg.