Suhas Gaddam and Adrián Ramirez join 47 Degrees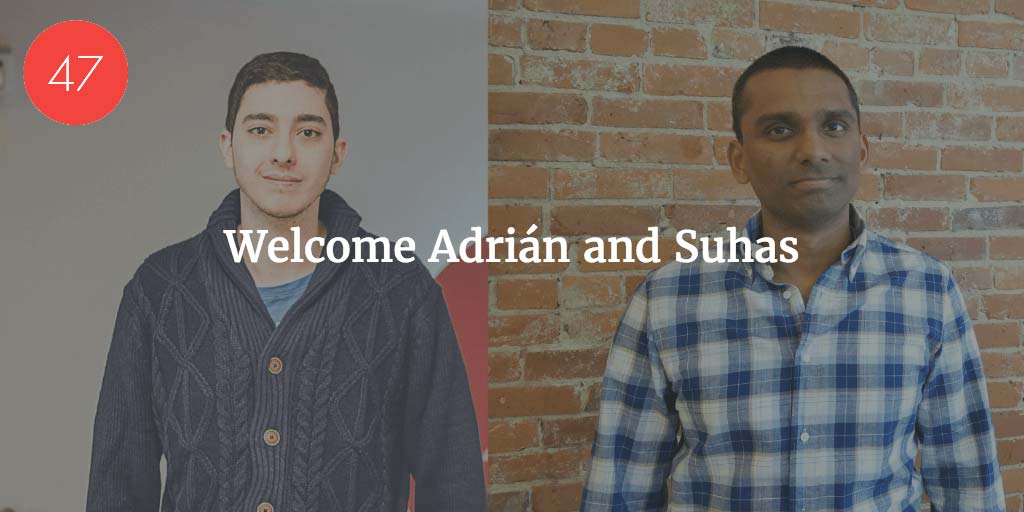 At 47 Degrees, we consider our team family, so we're always delighted when our family grows. Today, we're happy to welcome two more members to our pack:
Welcome Suhas Gaddam
Suhas Gaddam recently moved from little Seattle (aka Portland) to the real deal to join our team as a Senior Software Engineer. (We promise no bad mouthing, we like Portland, no rivalry here).
Suhas has lived all over the world including India, Singapore, Folsom, California, and Portland. He also spent four years in Berkeley during his tenure at the University of California Berkeley where he graduated with a Bachelor of Science in Electrical Engineering and Computer Science.
After college, he started off his career as an Analog Engineer with Intel where he helped design and test analog circuits on Haswell and Broadwell chips. He spent a significant amount of time using Python and Perl to automate varies tools. After Intel, Suhas moved on to Vadio, a start-up that was dedicated to enabling video advertising to accompany streaming music. It was here that he learned Scala and found that he really liked utilizing the language and it's associated tools like Spark. During this time, he began to learn a lot more about functional programming and found he really liked thinking and writing in that paradigm.
In his free time, Suhas enjoys reading, mostly science-fiction and fantasy books, snowboarding, racing simulation games, and currently, like many 47ers, he is playing Legend of Zelda: Breath of the Wild on the Nintendo Switch.
We're excited to have him join our team and look forward to his contributions.
You can find more on Suhas here:
---
Welcome our new intern Adrián Ramirez
Another talented young mind has joined us this spring for his internship, please welcome Adrián Ramirez!
Adrián hails from Chiclana de la Frontera, Cádiz but now lives in our Spanish headquarters of San Fernando. He started off programming in a superior cycle of multiplatform application development, without really knowing much about it, but he knew he loved it by the end of the first course. He, like many other engineers, believes programming is a mix of a puzzle game, and magic and the constant challenge is what drives him crazy.
In his free time, Adrián likes to walk his dog, play videogames, and learn new things, usually about programming, but a variety of other subjects as well.
We look forward to having him help out and continue to learn from our Scala veterans! We know he's got a very functional future ahead of him.
You can find more on Adrián here:
---
We hope you'll join us in welcoming these new 47'ers! Remember you can always connect with us @47deg or by getting in touch.