Work with us at 47 Degrees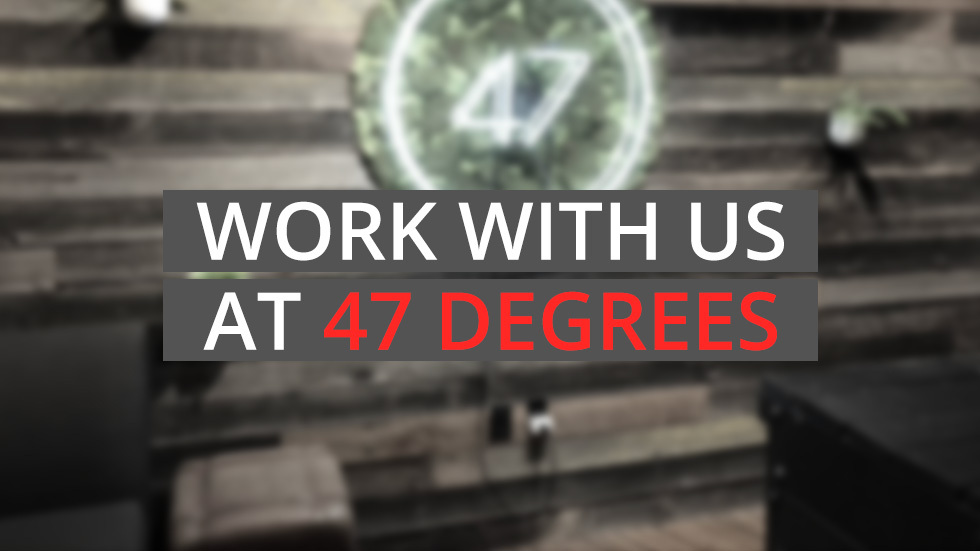 2021 was a year of exceptional growth at 47 Degrees. As we continue to expand in 2022, we have several open positions we are actively looking to fill.
How's the culture at 47 Degrees?
Despite being spread across three continents, our globally diverse team is unified by a single desire to create unique experiences for our clients. The company firmly believes in commitment, caring, inclusivity, and integrity. Community is also very important to us; our internal 47 Degrees community, the tech communities in which we participate, and the global community to which we all belong.
We encourage you to read more about our vision, mission, and values, in addition to watching the following video to get a taste of the culture at 47 Degrees.
What's it like working at 47 Degrees?
You can always read an "About" page to get a better understanding of a company and the people who work there. But there's no substitute for hearing from actual people at that company to really get a sense of what it's like working there. So here are a few comments from current employees:
"When I think of why I like to work here, it is very difficult to simply choose a few reasons because the place is AWESOME for so many reasons. To pick a few, I'd say that 47 Degrees is a company where community is always at the core of our operations, where you can feel that people always matter. A space full of steady innovation and proactivity in all its dimensions. A place where your ideas are always heard, and where you can continuously stretch and challenge your own expectations around your professional development. But what I probably value the most is that our company fosters a psychologically safe and diverse environment, while nurturing a strong culture of consultancy and technical excellence for our clients. A place were you can definitely grow up to your own limits and work on exciting projects, while surrounding yourself with amazing people to learn from and to take this journey together."
– Mar Facio, Performance & Improvement Director
"47's people and culture is definitely the thing that I love the most about working here. I'm surrounded not just by really talented teammates, but also people who are kind, supportive, and funny. I felt welcome from the very first moment I joined, like I had been part of the team since the beginning."
– Nychol Bazurto, Director of Engineering
"Working here, everyone is heard regardless of background. And the kindness here goes a long way to enable one to thrive, not just professionally, but also for technical skills."
– Imran Settuba, Software Engineer
"Working at 47 Degrees feels to me like a great opportunity to grow professionally alongside great experts, facing various and interesting challenges, all in a friendly and supportive environment; something that everybody (especially newcomers) appreciates."
– Ana Gómez, Software Engineer
What kind of positions are available?
Because 47 Degrees is a global company with offices in North America, South America, Spain, and the United Kingdom, we currently have positions ready to be filled in a wide variety of geographical locations (including remote positions). Multiple Scala engineer, DevOps engineer, and data engineer positions are available, in addition to other positions related to Kotlin, training, and talent acquisition.
If you're interested in joining our passionate team of incredible 47ers, then browse the current list of open positions at 47 Degrees. We can't wait to hear from you.