Working from Home During Quarantine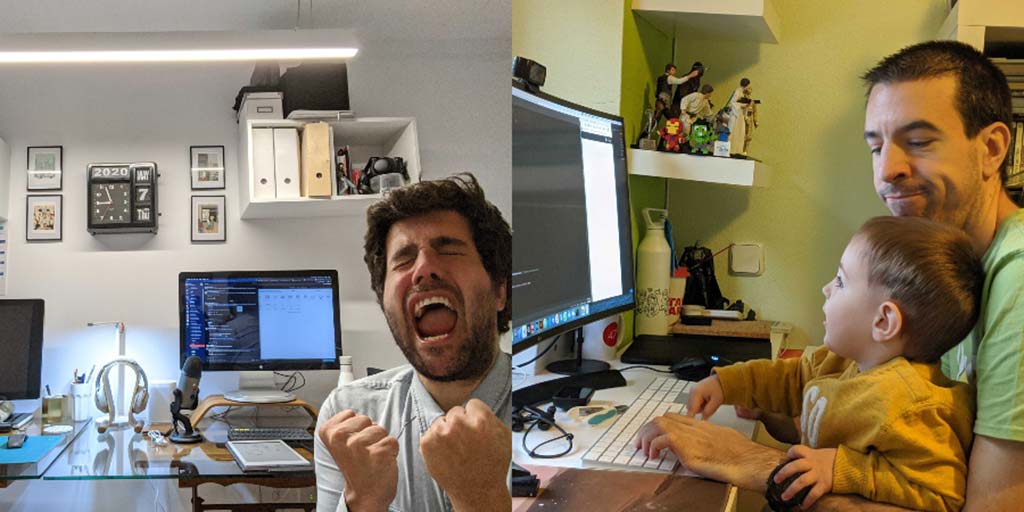 The world is currently in uncharted waters with the COVID-19 situation changing every day. Although there are signs of easing restrictions and businesses reopening, there's still a great deal of uncertainty as there is no unified plan for dealing with coronavirus moving forward—especially considering that health experts suspect the worst is yet to come. It's unclear what the new "normal" will look like after all this. But many believe that working from home will become more common.
While much of the tech industry is able to work from home and trust us, we are not taking that privilege for granted, a lot of people have never, or have rarely done so. It takes a certain mindset and approach to be effective while working away from office-based colleagues, but there are tools and tricks to help you do so.
The 47 Degrees team made the responsible decision soon after the COVID-19 outbreak to work from home to limit our exposure to the virus, as well as our potential to be carriers to our families, loved ones, and the general public. We're lucky to be empowered and trusted in this way.
For those who haven't really needed to work remotely, nor had the freedom to do so in the past, but have now been forced to do so because of the coronavirus pandemic, here are some quick tips and thoughts on getting things done remotely while we recover from the wave of infections and other unpredictable shocks over the next few weeks and months.
Please note - this is only a collection of advice on what works for members of our team - this may not be the case for you. Everyone works differently and this is not a "one size fits all" type of scenario.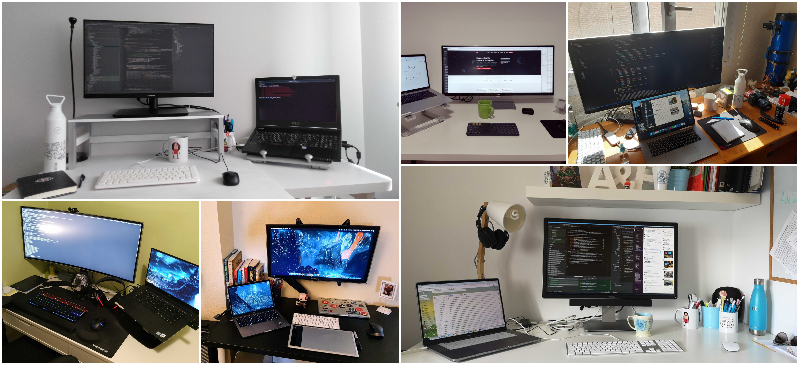 Recommended equipment
Let's be honest, at the very basic level, you'll likely need a laptop and a decent internet connection. Additional bonuses include:
Headset and webcam - you're likely to spend a lot more time on video calls, so make sure you can be heard clearly and seen - switch on the webcam for EVERY call.
Make sure you understand that, at this time, kids or pets (heck, even partners) may interrupt calls,.
Just be weary of the "Poor Jennifer" situation and turn off your camera and mute your audio if you need to, it's understandable. And, if something like that happens during a call you're on, don't be a jerk and share it publicly (unless said person agrees it's okay).
Decent internet bandwidth (10 Mbps should be fine), and a fall-back option via your mobile phone data (on a different network provider ideally).
Quality of Life upgrades for longer-term scenarios - where we're at now, basically:
Having a decent monitor/s, mouse, and keyboard can help reduce strain.
Decent workstation and chair if you can; the sofa (see list of "don'ts" below) is a novelty but your back and neck won't think so after 8 hours of lounging.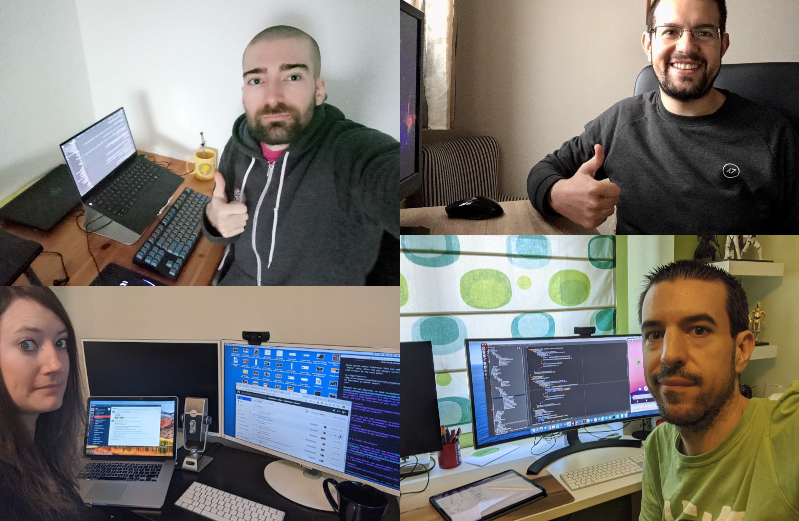 Communicate, communicate, communicate:
At 47 Degrees, we already have this on lock - our team is distributed over the globe and functions as a whole based on our digital communication efforts. Not all companies are set-up this way; if you're used to primarily using in-person methods of communication, here are some things to consider:
Get organized and communicate on collaboration tools, e.g., Slack, Discord, Wire, Hangout, Microsoft Teams, WhatsApp, etc.

Over-communicate and let folks know that you are there, what you're working on, etc., but stay focused and be disciplined about your availability and how much time you can devote to these tools. Mark yourself as away or Do Not Disturb when you need to focus.

Chat can take longer to convey issues, so switch to video conference and screen sharing when more appropriate. Not everyone will be able to join you, so share notes to keep folks in sync on decisions or actions.

Use screen sharing to capture notes and actions for each call, and share over email - it'll save you time and keep folks on the same page.

Don't hoard information or hide the fact that you might be blocked on something - share your status, broadcast if you need to, ask for help. Share successes as well as failures - transparency helps keep everyone together.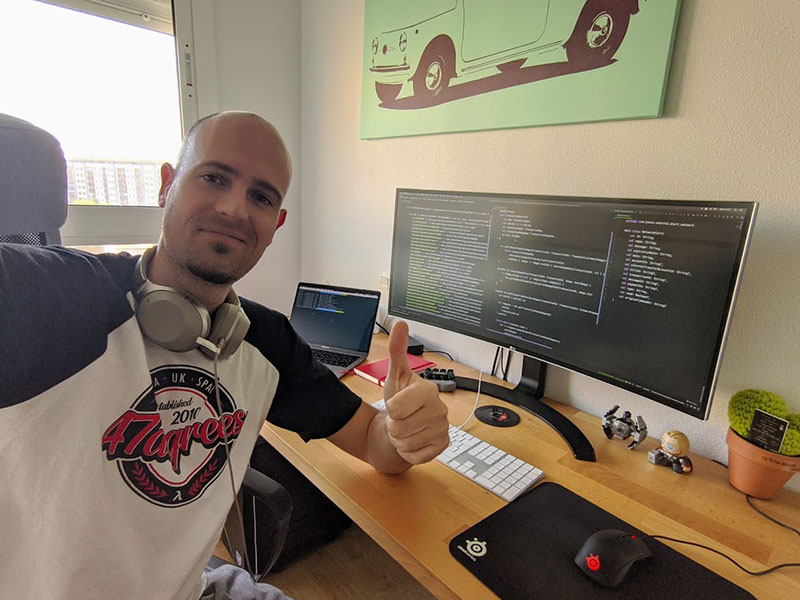 ---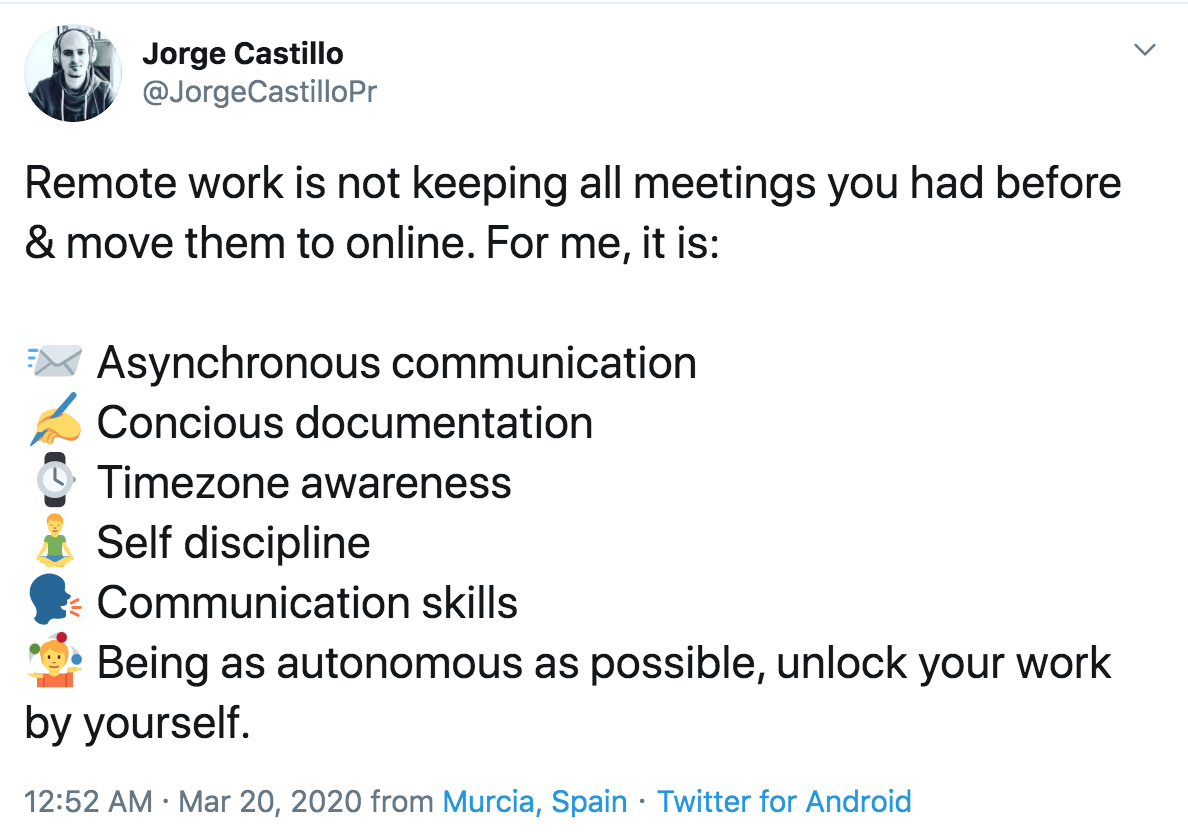 ---
Dos!
The downside (or upside) to working from home is that you tend to be in front of the screen longer and more sedentary, and potentially less disciplined as the days go by. Your regular commute and routines are out of kilter, but that doesn't mean you should let everything go.
Personal Hygiene! It helps to get the day started by acting like you're heading into a physical office; take a shower, get dressed! Look, some days, pajamas or comfy sweats are great to work in, but a pair of jeans goes a long way to feeling more productive. We're not saying wear a suit, just maybe change out of what you wore to bed (if anything). And don't work naked. No one wants to see that.

Create a designated work area for yourself.

Go for a walk or jog around the block, do the laundry, step away from the desk, cook a real meal, etc.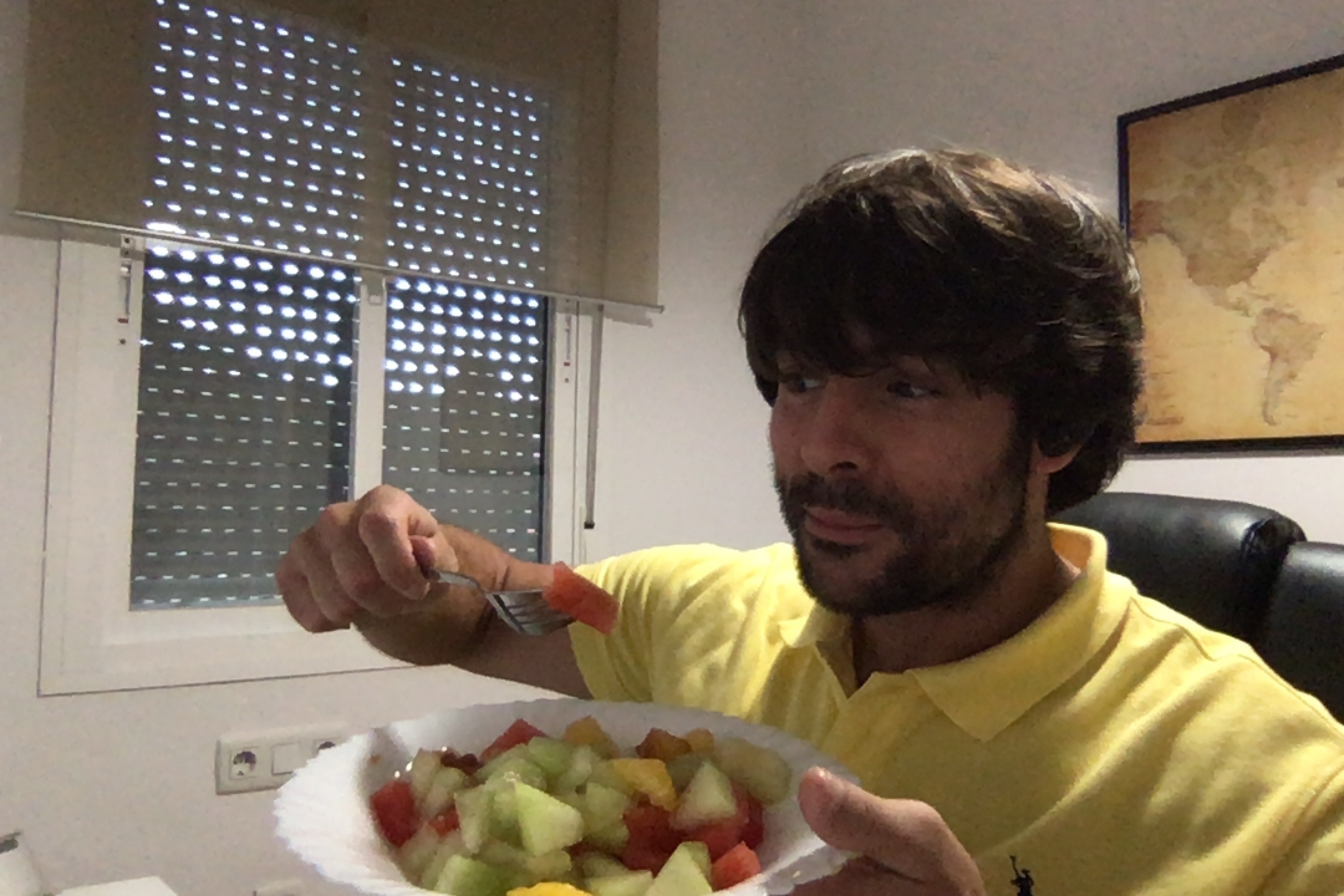 Get rid of most of your unhealthy snacks. But, sometimes an unhealthy snack is a good treat; just make sure to do so in moderation.

Take frequent breaks, especially if your workstation is not an ideal set up. Flavio Corpa recommends the Tomato Timer to remind him to get up and stretch, take water breaks, etc.

You're home. So if squeezing in a power nap would help you re energize, then go for it.

Figure out when to switch off - for some of us, that might be dictated by picking up kids from school, or dinner time, or some other activity. Do switch off, the work will still be there for you tomorrow, and if it's urgent and important, someone can always ring your mobile.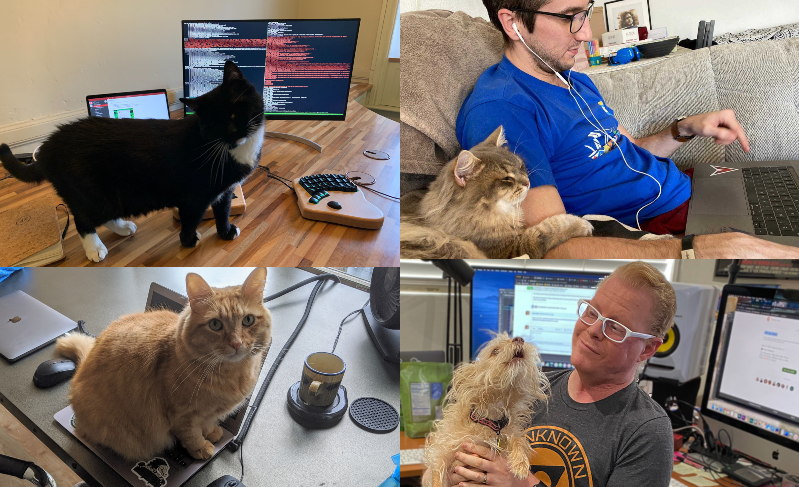 Avoid these things:
You wouldn't watch television while at work (unless that's your job!), or infinite-scroll through Facebook, Instagram, Twitter, etc. for hours on end, would you? Keep the same discipline at home, and imagine that your co-workers or bosses are just behind you. Uninstall the apps if you have to.

The same goes for having instant access via the web-browsers - there are browser plugins available to block certain sites while you're working.

Don't take advantage of the ability to work from home. This is your career and your employer is trusting in you and your work; don't abuse the privilege, it will show. mployers should recognize that not everyone will be as productive as normal during this crisis.
Tips for employers
First off, employers should check in on the well-being of their team from time-to-time and be there to support and listen to everyone as we navigate through this together.
Find ways to keep your team connected while you're apart and cannot interact in person. We've done a lot of random things to work on this, and some may sound weird, but we've found what works for us. Some of these have been strategies we've always used, and some created in the last few months.
Weekly team newsletter: Every Friday we send out a newsletter to our entire team that includes client project updates, what people worked on that week, highlights, and updates on all our open source projects. We also include updates from our Marketing and Sales teams, PTO calendar, birthdays, work anniversaries, etc.

Internal Podcast: We've also created a weekly internal podcast where our Digital Content Manager, Jason McClellan interviews a different member of our team.

The Mos-Eisley Cantina: We opened up a Slack Channel and a Google event that's always open as a virtual hangout. We've had groups meet for coffee, happy hours, games, showing off new babies, and even some virtual concerts from our team.

We've also started weekly challenges or activities for our team to voluntarily participate in whether it's been a simple photo challenge, drawing contest, or even our fitness challenge where we encouraged our team to run/walk/bike/swim/ etc. 47km in 14 Days. Check out some of the submissions from the team and their kiddos: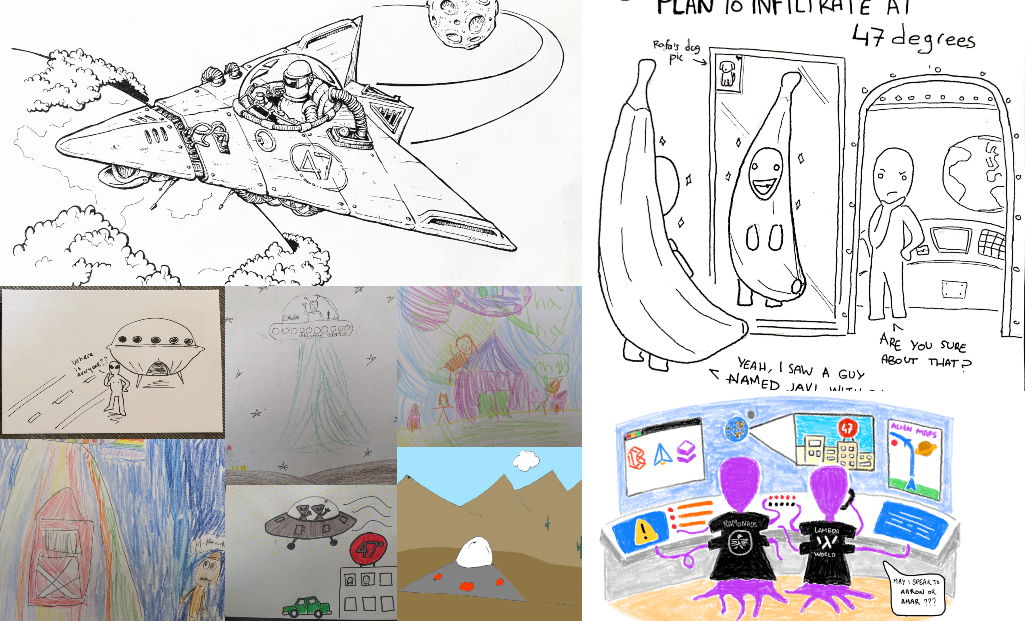 There are many other tips and tricks out there, but we wanted to share some basics with you.
During this specific time, there are many struggling with the strain of the circumstances, personal and professional losses, children at home, or feeling isolated. We shouldn't judge the productivity of remote work during this time. Circumstances are not normal.
Amar Patel, Sales Director for the EMEA on our team shared the following, which highlights this point:
"Right now, a 120-nanometer diameter virus is reframing everyone's lives everywhere; their unique set of personal constraints and challenges has been amplified.
Please be mindful that not everyone has a comfortable home-office to work from, or that they might be worried to death what next week will bring, or that they may have kids already out of school, or have an at-risk friend or loved one to worry about, or that their life and income have been turned upside down.
Take a moment to ask people how they are, withhold judgment of their work-from-home spaces, be patient if kids interrupt calls or their 9-5 schedules become more fluid.
Trust and empower them to make the right decisions. Be patient and supportive.
On the flip-side, if you are suffering or in need of help at work or at home, please please ask for it, or say so. We're in this together."
Have tips and tricks of your own to share? Need additional advice? Please let us know. As Amar mentioned, we're all in this together.
Your friends at 47 Degrees.