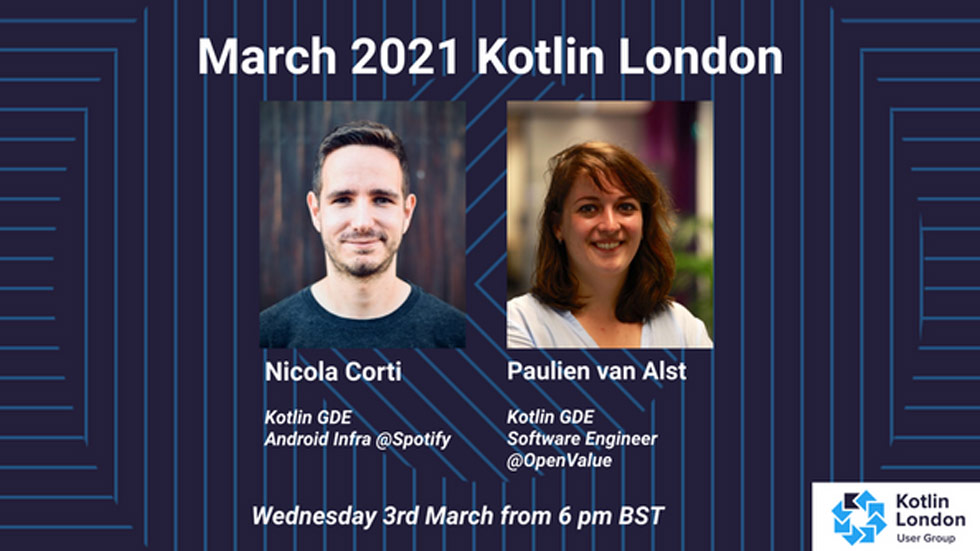 Kotlin London Meetup
The March Kotlin London virtual meetup takes place on Wednesday, March 3rd at 6:00 p.m. GMT. This event will feature talks by Nicola Corti and Paulien van Alst.
This meetup will be live streamed on the Kotlin London YouTube channel.
Nicola Corti – There is 1 broken API among us
As a library user, you probably know that versions don't always tell the truth. Have you ever experienced a broken build after doing a minor bump of a library?
As a library author, maintaining a clean API is a challenge. There is always the risk that a breaking change sneaks in by accident.
Wouldn't it be nice to get notified if you're accidentally breaking your users' code? A tool to inspect the binary API of your Kotlin/Java code can help you exactly with that. In this talk, we will see some of those tools and how that simplifies the life of library & SDK developers.
Paulien van Alst – Embrace the Kotlin ecosystem at the back-end side
Kotlin is becoming a mature and established back-end language. The maturity of a language is not only measured by its features but also by its community and ecosystem. Kotlin's ecosystem for server-side development is growing very fast. Coming from the Java development side, Spring would be a default fallback option to build your application. While Spring is also hopping on the Kotlin train, the rest of Kotlin's ecosystem is growing fast. More and more new frameworks are popping up implementing different point of views on how to build your service. Those new frameworks might change our ways of developing back-end applications. Let's have a look out there!
Learn more about the event and the presenters at the Kotlin London meetup page.
---
47 Degrees is proud to be an organizing sponsor of the Kotlin London meetup group.