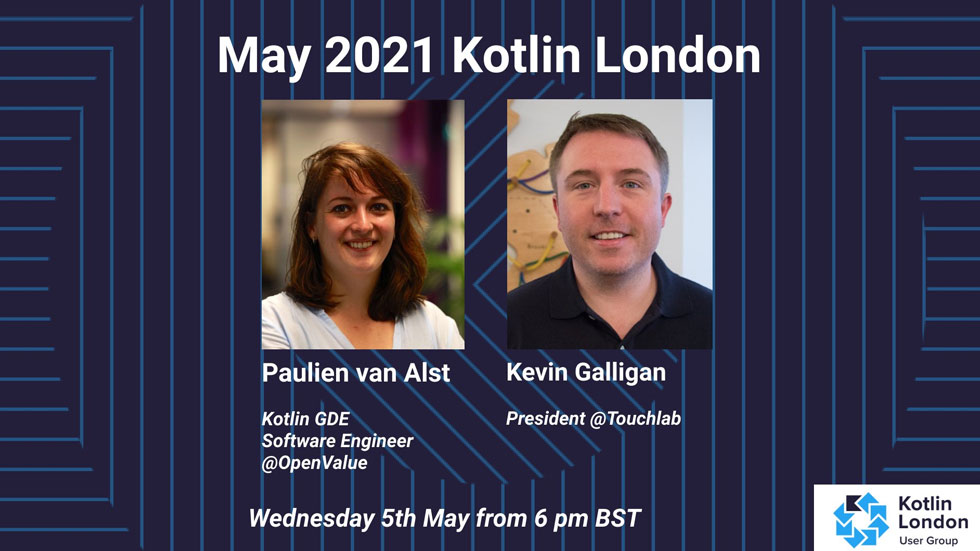 Kotlin London Meetup
The May Kotlin London virtual meetup takes place on Wednesday, May 5th at 6:00 p.m. GMT. This event will feature talks by Paulien van Alst and Kevin Galligan.
This meetup will be live streamed on the Kotlin London YouTube channel.
Paulien van Alst - Embrace the Kotlin ecosystem at the back-end side
Kotlin is becoming a mature and established back-end language. The maturity of a language is not only measured by its features but also by its community and ecosystem. Kotlin's ecosystem for server-side development is growing very fast. Coming from the Java development side, Spring would be a default fallback option to build your application. While Spring is also hopping on the Kotlin train, the rest of Kotlin's ecosystem is growing fast. More and more new frameworks are popping up implementing different point of views on how to build your service. Those new frameworks might change our ways of developing back-end applications. Let's have a look out there!
Kevin Galligan - KMM Kickstart For Android Developers
Most people at a Kotlin meetup have probably heard about Kotlin Multiplatform but maybe haven't had a chance to try it out. Or maybe you have but getting started was a little frustrating. The platform has matured rapidly, so finding current info and the best place to start can be difficult. This talk will cover starter projects, necessary tools, some thoughts on architecture, and other necessary info for KMM, from the perspective of an Android dev wanting to take a look. This topic tends to be a bit different for everybody after the basics, so have your questions ready for the Q&A!
Learn more about the event and the presenters at the Kotlin London meetup page.
---
47 Degrees is proud to be an organizing sponsor of the Kotlin London meetup group.