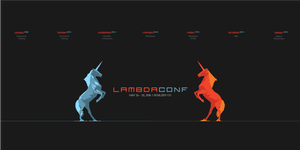 LambdaConf
47 Degrees is proud to be a sponsor of the 2016 LambdaConf!
Join us from Thursday, May 26th through Saturday, May 28th at the University of Boulder in Colorado for one of the largest functional programming conferences in the world. The event features three days of talks, workshops, panels, and networking events covering topics like Scala, Haskell, F#, Rust, Clojure, and more.
Our CTO and Co-founder, Raúl Raja, will be presenting on FP Patterns. We'll have more information on this talk as the event gets closer.
Find us on Twitter, Facebook, and Google+ to stay up-to-date on our projects and events.