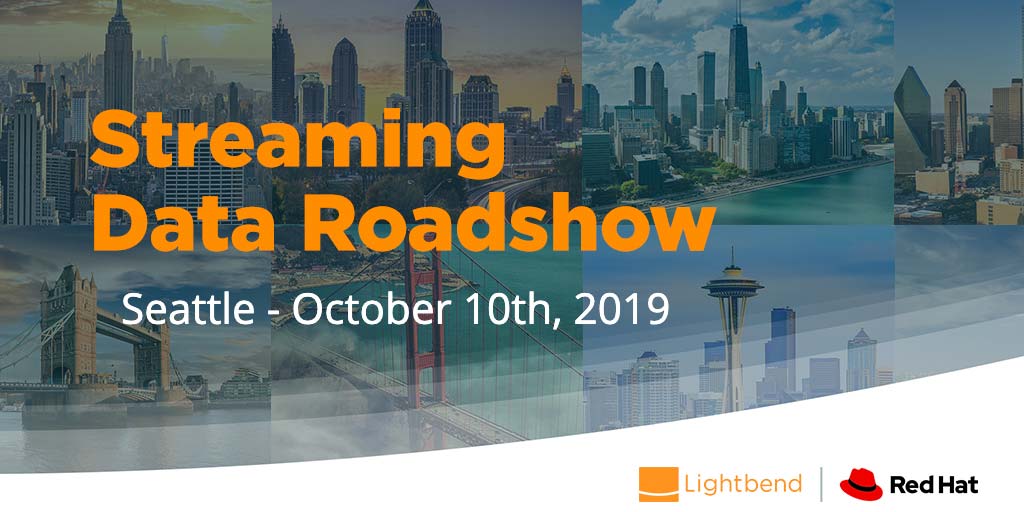 Streaming Data Roadshow - Seattle
47 Degrees will be joining our partners Lightbend and Red Hat for the Streaming Data Roadshow happening this October 10th, 2019 in Seattle!
Building Smarter Applications with Streaming Data Pipelines
Learn the common architectural patterns that form the foundation of successful streaming applications in this half-day roundtable hosted by Lightbend and Red Hat. In this session, you will learn:
Why streaming data is essential for digital transformation with a motivating example of AI/ML
How to overcome the hard parts of streaming architecture with microservices principles
How to choose the right tools: when to use Kafka, Akka, Flink, and Spark
Which cloud-native deployment options to consider for runtime reliability
Why new performance metrics matter for managing streaming data applications
The format of these sessions includes ample time for roundtable discussions and networking so you can learn how your peers are using Kafka, Akka, Spark, and Kubernetes to build smarter applications.
Members of the technical team from 47 Degrees will be providing real-world use cases on bringing these technologies together.
Agenda
08:30 AM – 09:30 AM Registration and Networking
09:30 AM – 09:45 AM Welcome and Introductions
09:45 AM – 10:30 AM Application Architecture for Streaming Data and ML
10:30 AM – 11:00 AM Roundtable Discussion
11:00 AM – 11:45 AM Cloud-Native Kubernetes Deployment Considerations
11:45 AM – 12:30 PM Lunch and Roundtable Discussion
12:30 PM – 01:15 PM Real-World Use Case: Streaming Data and ML at Scale
01:15 PM – 01:45 PM Roundtable Discussion
01:45 PM – 02:00 PM Wrap Up and Recommended Next Steps
This event is free, but seating is limited. Make sure to reserve your spot today.
Follow us @47deg to find out more.